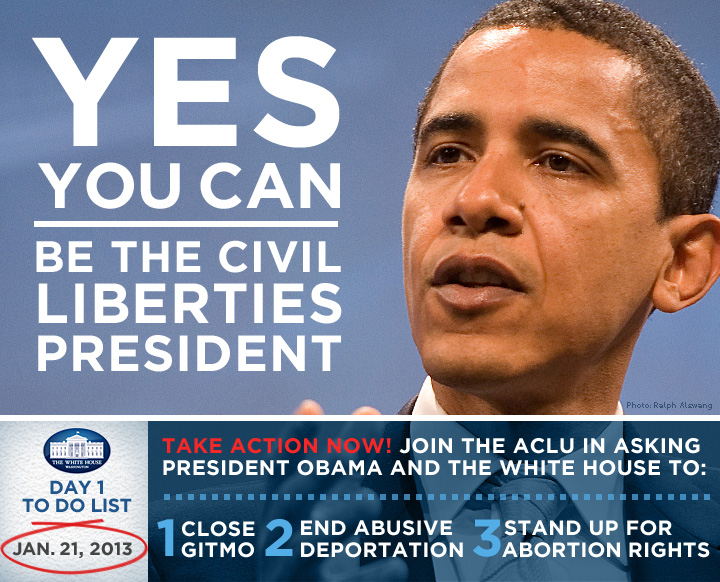 Close the Prison at Guantánamo Bay

The continued existence of the Guantánamo prison is a brazen assault on the Constitution - it's time to carry out this unmet promise.

Fulfill the first promise the president made when he took office four years ago and close Guanatanamo.
Release or try all detainees in federal court and transfer prisoners awaiting trial to facilities in the U.S.

Share this infographic

to show how the prison at Guantánamo has been a stain on our nation's civil liberties legacy.
End Abusive Deportation Practices

If trends continue, 3 million people will have been deported by the time President Obama leaves office. Urge him to take steps toward creating an immigration policy that makes sense and doesn't tear families apart.

Terminate the Secure Communities program, which encourages racial profiling and leads to mass arrests of undocumented immigrants.
End the 287(g) program run by the Department of Homeland Security, which deputizes local law enforcement to double as immigration agents.
Stand Up for Abortion Rights

President Obama has been a steady force in support of reproductive freedom. Now with the 40th anniversary of Roe v. Wade near, he must not give in to anti-abortion forces.

Work to make abortion coverage available in all federal insurance programs, including Medicaid.
Affirm that the decision on whether to continue a pregnancy is essential to a woman's equality and dignity.

These are three important requests for President
Obama as he begins his second term. But he has
much more to do to become the civil liberties president.
Click here to review our comprehensive guide for the
White House.