Bio
George M. Johnson is an award-winning Black non-binary writer, producer, and proud HBCU alum. They are the author the young adult memoir All Boys Aren't Blue. In 2021, they adapted and produced a dramatic reading of All Boys Aren't Blue starring Jenifer Lewis and Dyllon Burnside which received a 2022 Special Recognition Award from GLAAD. The memoir has additionally been optioned for television by Gabrielle Union.
Their second memoir, WE ARE NOT BROKEN, was released in September of 2021. It received the Carter G. Woodson Award as well as the Nonfiction Honor Book in the YA category from the International Literacy Association.
As a former journalist, George has written for major outlets including Teen Vogue, Entertainment Tonight, NBC, and BuzzFeed. In 2019, Johnson was awarded the Salute to Excellence Award by the National Association of Black Journalists for their article "When Racism Anchors your Health" in Vice Magazine.
George was listed on The Root 100 list of influential African Americans in 2020, The Out 100 list of influential LGBTQ people in 2021, and in 2022, was listed on TIME100 Next.
---
Featured work
Feb 16, 2023
Their Memoir Is One of the Most Banned Books in America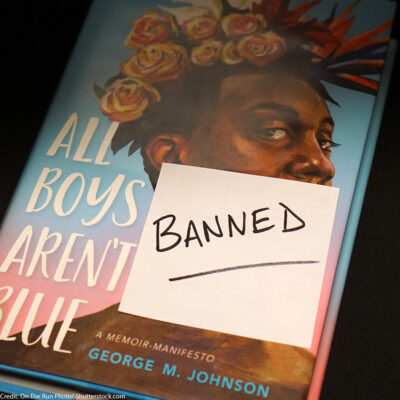 Their Memoir Is One of the Most Banned Books in America