Bio
Ihaab Syed is an Equal Justice Works Fellow at the ACLU's Voting Rights Project. Her work focuses on improving access to voting for Americans with disabilities.
At the ACLU, Ihaab has litigated suits across the country, which include challenging a discriminatory voter purge (GA NAACP v. DeKalb BORE), expanding access to voting by mail during the pandemic (Thomas v. Andino, CT NAACP v. Merrill), ensuring that lawfully cast votes were counted (Trump v. Boockvar, Hotze v. Hollins), and combatting voter suppressive legislation (Sixth District of the AME v. Kemp, WNV v. Jacobsen, WNV v. Stapleton). She has also engaged in legislative and policy advocacy at the state and federal levels, co-led the ACLU's 2020 election protection effort, and helped create public education resources consulted by nearly one million voters.
Ihaab received a J.D. from UCLA School of Law, where she was in the David J. Epstein Public Interest Law and Policy Program. She served on the UCLA Law Review, was Editor-in-Chief of the Journal of Islamic and Near Eastern Law, and was President of the International Human Rights Law Association. She graduated summa cum laude from New York University, where she was a Presidential Honors Scholar.
---
Featured work
Aug 28, 2020
100 Years and Counting: The Fight for Women's Suffrage Continues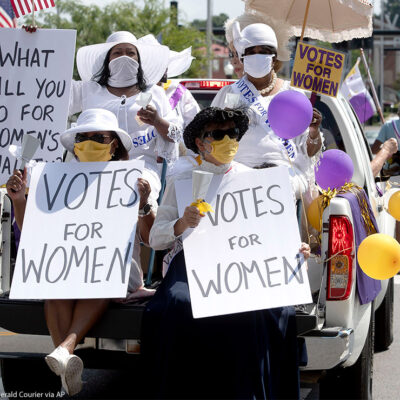 100 Years and Counting: The Fight for Women's Suffrage Continues