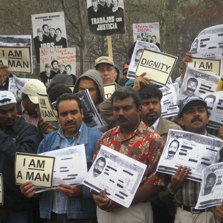 David, et al. v. Signal International, LLC, et al.
Status:
Closed (Judgment)
Last Update:
May 29, 2013
What's at Stake
Hundreds of workers trafficked to the U.S. from India to work in shipyards after Hurricane Katrina were lured here with dishonest assurances of becoming lawful permanent U.S. residents. In February 2015, the company responsible and its representatives were ordered to pay $14 million to five of the victims. It was the largest amount ever awarded by a jury in a labor trafficking case.
Summary
The ACLU successfully litigated a groundbreaking lawsuit originally brought on behalf of close to 500 guestworkers from India. These workers were trafficked into the United States through the federal government's H-2B guestworker program with dishonest assurances of becoming lawful permanent U.S. residents, and subjected to squalid living conditions, fraudulent payment practices, and threats of serious harm upon their arrival. Recruiting agents hired by the marine industry company Signal International held the guestworkers' passports and visas; coerced them into paying extraordinary fees for recruitment, immigration processing, and travel; and threatened them with serious legal and physical harm if they did not work under the Signal-restricted guestworker visa. Once in the United States, the men were required to live in Signal's guarded, overcrowded labor camps, subjected to psychological abuse and defrauded out of adequate payment for their work.
The ACLU – along with the Southern Poverty Law Center, the Asian American Legal Defense and Education Fund, the Louisiana Justice Institute, and Crowell & Moring LLP – represented 12 plaintiffs in the suit, filed in March 2008. In January 2012, a federal judge in New Orleans ruled that the case could not be brought as a class action for procedural reasons, and that additional cases had to be brought individually. "In the wake of that decision, some of the remaining trafficked H-2B guestworkers are bringing separate, individual cases against Signal, and on May 21, 2013, three firms, working on a pro bono basis, filed mass action suits on behalf of 83 guestworkers and five other firms agreed to represent more than 100 additional trafficked guestworkers." According to the lawsuit, the treatment of the workers violates the Victims of Trafficking and Violence Protection Act (TVPA) and the Racketeer Influenced and Corrupt Organizations Act (RICO).
After a four-week trial before U.S. District Judge Susie Morgan in 2015, the jury ruled that Signal International, New Orleans lawyer Malvern C. Burnett, and India-based recruiter Sachin Dewan engaged in labor trafficking, fraud, racketeering and discrimination. The jury also found that one of the five plaintiffs was a victim of false imprisonment and retaliation.
In April 2011 the U.S. Equal Employment Opportunity Commission (EEOC) filed a separate federal lawsuit in Mississippi alleging that Signal intentionally discriminated against the guestworkers. The plaintiffs in the David case have intervened in the EEOC's case, which has been moved to federal court in New Orleans and is currently proceeding on a separate track from the David case. Read more about that case here.
Support our on-going litigation and work in the courts
Donate now
Learn More About the Issues in This Case