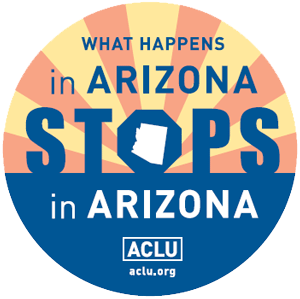 Arizona's new racial profiling law requires police officers in Arizona to ask people for their papers based only on some undefined "reasonable suspicion" that they are in the country unlawfully. If this shameful law goes into effect, everyone in Arizona will effectively have to carry their "papers" at all times. Several other states are considering similar legislation, so we must act now to keep the law from spreading.
Send Us Your Photo!
We want to know what you think about this extreme new law. Take a picture of yourself expressing what you think and send it to us at multimedia@aclu.org. Use one of our slogans or create your own.  Be as creative as you want to be! We'll post our favorites here and on our Flickr feed and use selected ones as part of our campaign to make sure that what happens in Arizona stops in Arizona.
Be sure to include this text in the body of your e-mail:
By submitting a picture to the ACLU, I agree that I, and any other subjects of this photo, grant the ACLU the right to use this photo in any and all media in connection with the ACLU's mission, including for promotional or marketing purposes; and I confirm that I am the author of this photo and have the right to publish it as described by ACLU. I release the ACLU on behalf of myself, my heirs, family members, and executors from any claim that I have or ever may have (including for invasion of privacy, libel, slander, portraying me in a false light, breach of my right of publicity or violation of copyright) based on use of this photo.