Equal access to job opportunities is a core component of economic justice. Increasingly, employers are using automated tools in their hiring processes, including for advertising job opportunities, screening applications, assessing candidates, and conducting interviews. These tools can perpetuate existing bias in hiring and employment or enable new kinds of digital discrimination based on race, gender, disability, and other protected characteristics in ways that may be difficult to detect. However, there are various existing local, state, and federal laws that protect you from discrimination, including digital discrimination, and may give you some control over how your data is used by employers. Learn more about how automated tools are used in the hiring process and your digital rights under these laws. (Last updated October 2023.)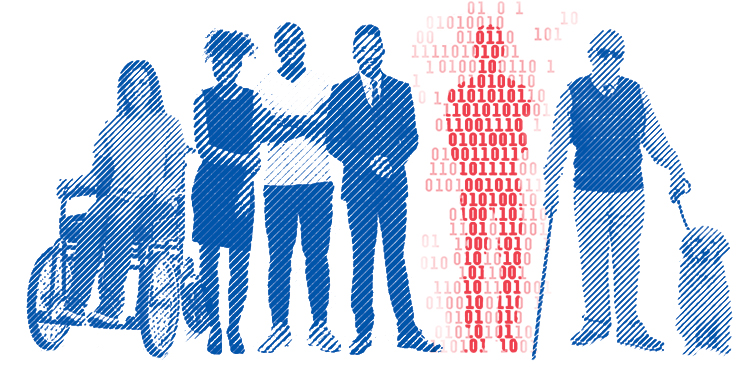 How are automated tools used in the hiring process?
Automated decision-making tools, including tools that rely on artificial intelligence (AI), are widely used by employers at every stage of the hiring process, including for advertising job opportunities, reviewing resumes, conducting interviews, and more. These tools can enable discrimination or exacerbate discrimination related to race, gender, disability, or other protected characteristics in many different ways. For example, one resume screening tool identified being named Jared and playing high school lacrosse as correlated with being a successful employee. Another screening tool demonstrated gender bias by downgrading resumes of applicants who attended women's colleges or participated in women's sports. Many of these tools claim to measure vague and subjective personality traits — like "optimism" or "extroversion" — traits that research indicates may not be possible to meaningfully predict, are often not necessary for performing the job, and can screen out candidates with disabilities. Some tools that rely on automated analysis of a candidate's facial, verbal, or physical interactions with a computer raise additional concerns that candidates may be screened out or scored lower based on legally protected characteristics. These concerns are especially significant because people often do not know when or how automated tools are used to evaluate their job applications. You can learn more about how automated tools are used in the hiring process here.
How can you tell if you have been impacted by an automated hiring tool?
Knowing when you've been impacted by an automated tool can help you identify digital discrimination and figure out how to assert your digital rights in the hiring process. Some of the telltale signs you may have been impacted by an automated decision-making tool when applying for a job include:
You are asked to record a video or voice clip where you respond to interview questions — rather than talking to a human directly for an interview. While a human may be watching the recordings, it is possible that the employer is using software to analyze these recordings, and the software may make recommendations based on the videos without human input.
You have to interact with a chatbot as part of the application process. Employers commonly use chatbots, which are automated tools used to send and receive messages, to collect applications, filter candidates, and schedule interviews. Some of these chatbots may be designed to encourage or discourage applications based on answers to specific questions, and it may be difficult or impossible to know how your answers will impact your application.
Your application for a role is automatically or quickly rejected. If you get an email or message saying that your application has been rejected soon after you applied — perhaps within a few minutes or hours of applying — an automated system may have been used to screen out your job application.
You are asked to take a test or survey on a computer, mobile phone, or other electronic device as part of the application during the hiring process. These tests may include personality tests, questionnaires about your feelings, or other types of assessments. The test or survey may not be about your knowledge, or may not even have right or wrong answers. The test or survey may instead ask you about how scenarios, photos, or words make you feel, whether they describe you, or how you would react to them. Employers commonly use these assessments to make decisions about whether to advance your application in the hiring process.
You are asked to play a game on an electronic device as part of the application process. These games may appear to be related to the role for which you are applying, like a game that asks you to figure out how to stack boxes by weight as part of the application process for a package handler role. Or they may seem unrelated to the role, like mini-games that ask you to inflate a balloon to win fake money. Like tests and surveys, employers may use results from these games to make decisions about your job application.
The hiring platform cannot comprehend your request for an accommodation. If you ask for a reasonable accommodation related to a disability and the platform does not understand your request or respond appropriately, the employer may be using an automated system to respond to your inquiries. This commonly happens when employers use chatbots to collect application information and screen applicants and the chatbots cannot understand or process your request.
You are directed to another company's website while applying for the job. When employers use automated tools to collect and review applications, they often purchase these tools from third-party software vendors. If you are applying for a job online and you are directed to a website besides the employer's website to apply for the role, a third-party software vendor may be using automated tools to evaluate your application materials.
What are your digital rights when automated tools are used in the hiring process?
Federal anti-discrimination laws prohibit discrimination in hiring and employment based on sex, sexual orientation or gender identity, race or ethnicity, whether you have a disability, and other characteristics. State and local laws may provide additional protections.
More and more employers are using automated systems to search for candidates, evaluate job applicants, and make hiring decisions — but your rights don't disappear just because an employer may be using automated or online tools. Anti-discrimination laws still apply and still protect your job opportunities.
Several states have also recently enacted laws that affect how employers or third-party companies can use your personal information when you apply for jobs online, giving you more digital rights over your data and more transparency into how you may be evaluated by automated systems.
The above laws provide you with rights today, and the ACLU is working to strengthen our laws and regulations to protect people from digital discrimination, undue invasions of their privacy, and other harms.
What are your digital rights under federal law in hiring and employment?
You cannot be denied a job, promotion, or raise based on certain characteristics, including your sex, sexual orientation, gender identity, race, ethnicity, national origin, or disability. You have these rights whether you apply and interview for a job in person or online.
Employers sometimes use background checks or reports to make hiring and promotion decisions. These reports may be generated using artificial intelligence tools or algorithms that gather or analyze large amounts of data. When employers want to make hiring decisions based on background checks or reports, they have to tell you and get your permission. If they make a negative decision based on the report, the employer must tell you, and you have the right to see the information about you on which the employer based its decision, dispute inaccurate information, and more. To learn more about your rights, see the Federal Trade Commission's Summary of Your Rights Under the Fair Credit Reporting Act.
What are your digital rights under federal law when applying for a job if you have a disability?
Some parts of an application process may be difficult for you if you have a disability. For example, some of the websites or platforms employers use to collect applications may be inaccessible to individuals with various kinds of disabilities, making it difficult or impossible to apply for a role. The employer is required to make the application process accessible to people with disabilities. Some parts of the process, like automated video interviews or games, also might not measure your ability accurately because of a disability.
You have the right to ask for and receive "reasonable accommodations" that allow you to have an equal chance to succeed in applying for or doing the job. This includes when you are applying for jobs online and are required to conduct video or voice interviews, complete assessments, or take tests as part of the application process.
If you have a disability, you do not have to inform an employer of your disability when you apply for a job online — even if you may need an accommodation on the job. The employer also cannot ask you questions that will reveal that you have a disability until after making you a job offer.
To learn more about your rights and how you can ask for an accommodation, see the Equal Employment Opportunity Commission's Tips for Workers and the Department of Labor's Disability Rights Factsheet.
What are your digital rights under state and local law when searching for and applying for jobs?
In addition to federal protections, states have many laws that protect against discrimination and other unfair practices in employment, and these generally apply to digital discrimination and online hiring processes. In addition, some states have passed laws specific to automated decision-making and digital privacy, such as:
If you are a resident of California:
If you are applying for a job based in Illinois:
If you are applying for a job in Maryland and the employer operates in Maryland:
If you are applying for a job based in New York City and you reside in New York City:
If you live in other states:
Several other states also have laws giving people control over their personal information, potentially including some protections for personal information used in "profiling" by AI for "employment opportunities." These protections, however, might be limited, and you should review the resources below to learn more about digital rights for people in these states:
PDF of Page
View a PDF of this page here.
---
Other Know Your Rights Issues