FOR IMMEDIATE RELEASE
Contact: media@dcaclu.org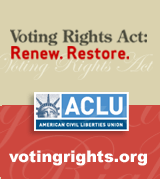 WASHINGTON - The American Civil Liberties Union applauded the Senate's swift reauthorization today of the Voting Rights Act, the landmark civil rights law first passed in 1965 to prevent voting discrimination.  The legislation passed unanimously without any damaging or weakening amendments on a vote of 98 to 0.  The measure now heads to the president for his signature.
"Today's vote is a victory for all Americans," said Caroline Fredrickson, Director of the ACLU Washington Legislative Office.  "The original Voting Rights Act was a promise our government made, and that promise was reaffirmed today.  We must look ahead to make sure the promise is as true and strong as it was in 1965.  Malicious attempts by lawmakers to derail reauthorization show the continuing need for this law and its enforcement.  President Bush needs to sign this legislation as soon as possible."
The ACLU has consistently urged Congress to renew the provisions of the law that have been so effective in thwarting voting discrimination and that would otherwise expire in 2007. Those are: Section 5, requiring jurisdictions with significant histories of voting discrimination to get federal approval of any new voting practices; Section 203, ensuring that voters with limited English proficiency get the assistance they need at the polls; and Section 8, authorizing the attorney general to appoint federal election observers where there is evidence of attempts to intimidate minority voters.
Earlier this year, the ACLU also launched a new campaign, "Every Voice. Every Vote. Renew the Voting Rights Act," to raise public awareness and urge Congress to fully reauthorize the act.  In addition to releasing two new reports, ACLU staff conducted a nationwide tour to inform the public about the need to renew the Voting Rights Act.  The ACLU also distributed new educational posters to libraries and schools documenting the history of voting rights in the United States.
"Although significant progress has been made, sadly, equal opportunity in voting still does not exist in many parts of the country," said LaShawn Warren, an ACLU Legislative Counsel.  "It is our hope that the reauthorization of this landmark law will build on our progress and move us one step closer to completely eliminating discrimination in voting."
For more information about the ACLU's fight for Voting Rights Act reauthorization go to:
https://www.aclu.org/voting-rights