FOR IMMEDIATE RELEASE
Contact: Media@dcaclu.org

WASHINGTON - The American Civil Liberties Union today applauded the Justice Department's Inspector General for opening an investigation into the department's role in the warrantless wiretapping program conducted by the National Security Agency. The White House agreed last week to give the Office of the Inspector General (OIG) the security clearances necessary to conduct the inquiry.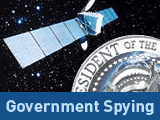 In a letter to the House Judiciary Committee, Glenn Fine, the Justice Department's Inspector General, said that his office has "decided to open a program review that will examine the Department's controls and use of information related to the program and the Department's compliance with legal requirements governing the program."
The following may be attributed to Caroline Fredrickson, Director of the ACLU Washington Legislative Office:
"We welcome this long overdue move and urge the OIG to seek the hidden truths about this program. We applaud Inspector General Fine for his perseverance in pushing for this investigation and hope it will be comprehensive and free from political pressure. No one, not even the president, is above the law.
"While the OIG carries out this investigation, lawmakers in Congress must conduct their own oversight regarding this illegal program. They must also reject any attempt to sanction this unconstitutional program or provide immunity to those telecommunications companies that violated the law when they gave our private information to the government without judicial approval. The American people deserve to know who among us has been spied on without a warrant."
The ACLU's letter to the IG requesting an investigation is available at: www.aclu.org/safefree/nsaspying/25577leg20060515.html
For more on the ACLU's concerns with the NSA's warrantless wiretapping program, go to: www.aclu.org/nsaspying