FOR IMMEDIATE RELEASE
Contact: Media@dcaclu.org
WASHINGTON - The American Civil Liberties Union today urged the House Energy and Commerce Subcommittee on Telecommunications and the Internet to force the Federal Communications Commission to hold telecommunication companies accountable for their role in facilitating the National Security Agency's warrantless surveillance and the use of National Security Letters.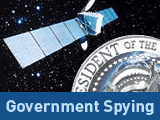 "The Federal Communications Commission sat idly by while telecommunication companies illegally sold their customers' private information to the government for profit," said Caroline Fredrickson, Director of the ACLU Washington Legislative Office. "The laws regarding the proper process are very clear, and the FBI and the telecommunication companies entered into a contract to circumvent the law. The FCC must investigate the role of the telecommunications giants in breaking the law. We urge Congress demand the FCC act to protect our privacy.
The FCC's commissioners appeared before a House panel for an oversight hearing and the ACLU noted that the commission has thus far been unwilling to investigate any aspect of illegal and unconstitutional NSA program.
In late January, the Chairman of the committee, John Dingell (D-MI) and the Chairman of the Subcommittee on Telecommunications and the Internet, Ed Markey (D-MA) wrote to the FCC commissioners and asked them to clarify the commission's claims that it was "unable to investigate" the NSA warrantless surveillance program. The commissioners have cited the National Security Act as the reason for the inability to investigate the program.
However, the FCC reached that conclusion without taking any action to investigate the NSA surveillance program. The FCC is one of the key federal agencies responsible for protecting Americans' privacy, and instead of attempting to challenge the NSA and the telecommunications companies on the illegal program, it has stood silent. Telecommunications companies have also been actively lobbying for immunity from prosecution for their role in illegal NSA spying.
Also, last Friday, the Department of Justice revealed the government has abused its NSL authority to obtain, without judicial review, countless records from telecommunications companies. In many cases, government agents cited "exigent" circumstances, when none existed.
"If the companies did nothing wrong why do they want immunity from prosecution for their involvement in the NSA program," said Timothy D. Sparapani, an ACLU Legislative Counsel. "We applaud Representatives Dingell and Markey for taking illegal spying head on. We hope the entire subcommittee will demand that the FCC - a supposedly independent commission - assert its authority and investigate these huge breaches of privacy."
To read more about the ACLU's concerns with the NSA surveillance program, go to: www.aclu.org/nsaspying