The New York Civil Liberties Union's sixth annual Broadway Stands Up for Freedom concert was a smashing, sold-out success. Dozens of Broadway's finest — including musical director Seth Rudetsky and leading actors from Jersey Boys, Wicked, the original cast of Rent, Spring Awakening, Spelling Bee, Les Miserables and the entire cast of Godspell — took to the stage to salute the work of the NYCLU through song, raising a small fortune for its youth programs.
The performances were both funny and poignant, and always a delight to hear. Among the highlights, distinguished actors, including Daniel Sunjata of TV's Rescue Me, recited essays and poetry by three New York City high school students, who passionately and powerfully described the crucial role that the struggle for civil rights and liberties plays in creating a more just and tolerant society.
Though honorary chair Tony Kushner was called away at the last minute because of a family emergency, he still managed to bring down the house with a message read by Tony — nominated actress Kathleen Chalfant, who starred in Kushner's Angels in America. Here is an excerpt that captures the evening's spirit:
Everyone who's ever worked in theater knows how absolutely predicated on hope the rickety, loony enterprise always is, and how little encouragement hope receives along the way, and how seldom, in fact, our fondest hopes are realized, and yet also how essential theater is to life, and hence how essential hope is to life. The NYCLU shares a faith of a similar kind: a determined faith in the future, predicated not on metaphysics but on the magnificent curiosity, vitality, generosity, generativity and decency of human community. Without which, there would be no audience for theater, nor any necessity to keep our civil liberties alive, to make sure we don't forget Abraham Lincoln's admonition: "A government had better go to the very extreme of toleration than to do aught that could be construed into an interference with, or to jeopardize in any degree, the common rights of its citizens."
The entire message is available here.
Jen Bender, resident director of the Lion King, directed the show.
The concert's founders, from left to right: Dana Steingold (Godspell, Spelling Bee), NYCLU Executive Director Donna Lieberman, Erich Bergen (Jersey Boys) and Liana Stampur.
The entire cast of Godspell.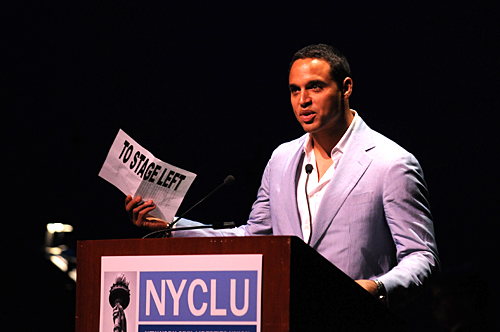 Daniel Sunjata (Rescue Me) reads an essay by a New York City high school student.
Tony-winner John Gallagher of Spring Awakening.
Learn More About the Issues on This Page