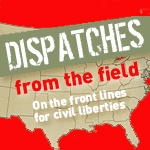 We write from Sioux Falls, South Dakota, where we are part of the people's campaign to reject the state legislature's abortion ban. In February 2006, the legislature turned its back on the women and families of South Dakota and passed a ban on virtually all abortions. As soon as the Governor signed the bill, 38,000 South Dakotans signed petitions — more than twice as many as needed — to activate the state's referendum process. On November 7, voters will have the chance to reject this dangerous and extreme measure (Referred Law Number 6).
We have been helping the South Dakota Campaign for Healthy Families (www.sdhealthyfamilies.org) in their grassroots effort to stop the abortion ban from taking effect. The ACLU is a member of the SDCHF, and we spend our time educating South Dakotans about how the abortion ban endangers women's health.
It seems like people of all ages get how this ban interferes with personal autonomy. Dahlia has these two stories to tell:
One woman who I spoke with said that she was absolutely going to vote against the abortion ban and that her grand-daughter could not even get her doctor to prescribe birth control for her, though she is married. This grandma went on to say that "it's all these men that want women to have babies, but if they just had to walk a week or two in our shoes, they would change their minds in a minute. I'm 91 and I want my grandchildren and great grandchildren to have the same rights that I've had in my life." Nuf said.
I thought this would be the highlight of the trip, but then while using a public restroom in a hotel (wearing our "South Dakota Healthy Families Vote NO on 6" t-shirts) this woman who was preparing her daughter for a beauty pagent turned to me and said that she's lived in South Dakota her whole life and is so happy that we're out there knocking on doors to repeal the abortion ban. She chatted with me for a minute and then her 6 year old asked, "What's the abortion ban, Mommy?" She's answered, "How do I explain this to you in 6 year old terms? Ok, some people think that the government should decide when someone becomes a mommy and whether or not people should become mommies and daddies. And we don't support that. We don't think that's ok." Her 6 year old crinkled up her nose and said, "That's wierd. I don't like that." And then she went on to explain the benefits/ drawbacks of using glitter make up in the beauty pagent.
Not necessarily who I would expect to be our supporters here in South Dakota, but that's what is so amazing about this whole experience: people defy stereotypes; they whisper thank you as they take our voting materials while they check out whether or not to see if the neighbors are watching; they are supporting a woman's right to reproductive freedom.
We will continue to work around the clock until Election Day. We know the country is watching the outcome of this vote, as it is an aggressive attack on the reproductive freedom of all women.
— ACLU Reproductive Freedom Project's Sondra Goldschein, State Strategies Attorney and Dahlia Ward, State Strategist