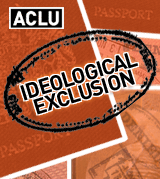 The New York Times used the occasion of this award to point out the governments of Rhodesia and South Africa considered Lessing a "prohibited alien" in 1956 for her political views.
But Jameel Jaffer, director of the ACLU's National Security Program, pointed out in a letter to the editor that Lessing was also kept out of the United States after she joined the Communist Party. She wasn't allowed back into the U.S. until 1969.
The practice of keeping those with unfavorable political leanings out of the country is called "ideological exclusion," and it's still happening today. You can learn more about it by checking out our special interactive feature – which happens to include Lessing – at www.aclu.org/passportflash.