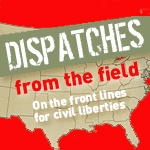 We never lost our lead. It became clear early on that South Dakotans were going to decisively reject the state's abortion ban at the polls. The final breakdown is 56-44. Voters sent a clear message to the legislature that they had gone too far.
We celebrated our victory last night a little after 11 p.m. CST. Even after CNN called it, we waited. We waited until we were absolutely sure that we had in fact achieved what many thought was unlikely — South Dakotans defeated the abortion ban!!!
Thank you to all of the ACLU members and friends that helped us Get Out the Vote in the crucial days leading up to the election. As soon as the Governor signed the abortion ban last spring, women and their families around the country quickly realized that the South Dakota legislation was a direct attack on the reproductive freedom of all women. Groups of students drove up from Florida, extended families came from New England, medical students traveled from Arizona, only to name a very few.
We joined the hardworking and dedicated grassroots movement and canvassed, phone banked, held signs on street corners, and offered our support to the Campaign for Healthy Families, which the ACLU is a part of.
As a result of the organizing efforts over the last few months (I must say it again), South Dakotans rejected the state's ban on virtually all abortions! The law will not go into effect!
Our celebration last night didn't end with our victory in South Dakota. Within the hour, we found out that Oregon voters had decisively rejected a ballot initiative that restricts teens' access to abortion. A loud cheer carried through the room – these attempts to restrict access to abortion are all different parts of the same agenda. And by early morning, I received an email that California voters had also defeated a constitutional amendment restricting teens' access to abortion — for the second year in a row!
Someone should tell my body that this race is now over. This morning, I woke up at 6:00 a.m. ready to put on my No on 6 t-shirt and spring into campaign mode. But not today — today is the time to savor these amazing victories against attempts to interfere with our personal and private decisionmaking. Tomorrow will be the day to start figuring out how to start increasing access to reproductive health services.