Back to

News & Commentary
There's No Such Thing as 'Consensual Sex' When a Person Is in Police Custody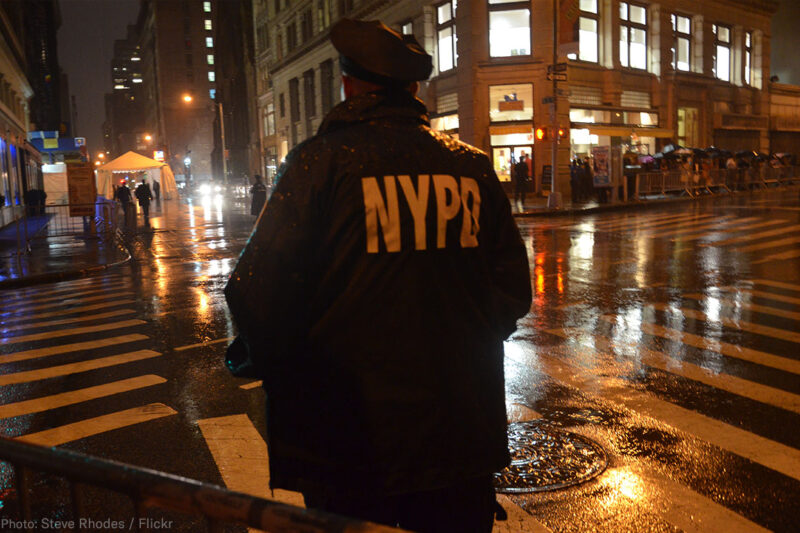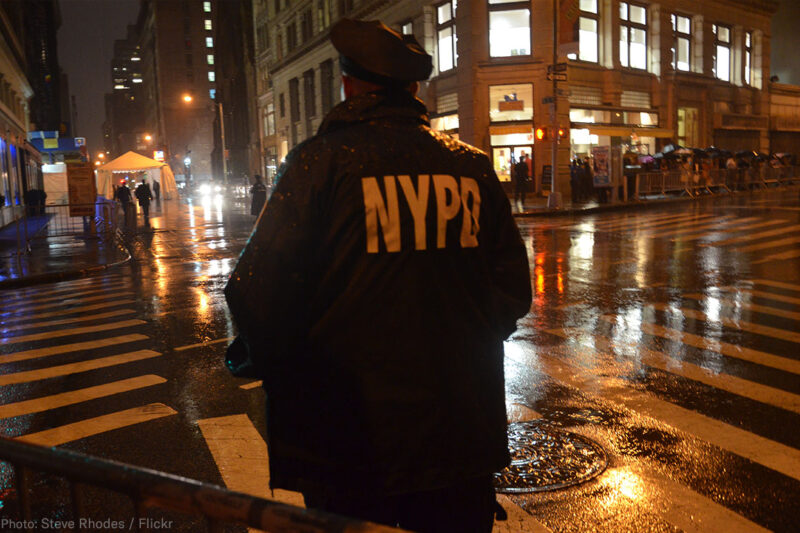 On the night of Sept. 15, 2017, Edward Martins and Richard Hall, narcotics detectives with the New York Police Department, pulled over an 18-year-old woman and her two male friends for being in a park after dark. After finding marijuana in the car's cup holder, they handcuffed the woman and told her friends to leave. The woman says that the detectives then put her in their unmarked police van with tinted windows and raped her as she cried and repeatedly told them "no." Semen collected in a forensic evidence kit matched the DNA of both men.
In November, Martins and Hall resigned from the NYPD and currently face rape and kidnapping charges. Both pleaded not guilty. Their defense against these allegations is almost as disturbing as the crimes they are accused of. They claim that they had consensual sex with the woman while she was in their custody.
And here's the thing: This defense might actually work because New York state law allows it.
New York is one of 35 states where consent may be used as a defense when a police officer is charged with raping a person in his custody. A Buzzfeed analysis of a Buffalo News database found that 26 out of at least 158 law enforcement officers charged since 2006 with sexual assault, sexual battery, or unlawful sexual contact with a person in custody have been acquitted or had charges dropped against them based on this absurd defense.
The defense completely ignores the incredible power police officers have over civilians in general, particularly those in their custody. That power dynamic makes consent impossible in this circumstance. Anyone in police custody implicitly understands this and knows that not going along with a police officer's wishes could have serious adverse consequences.
This kind of sexual abuse by police is not uncommon. A Buffalo News analysis found that an officer is accused of sexual misconduct every five days. Another study discovered that 40 percent of young women in New York City reported being sexually harassed by police.
In 2015, then-Attorney General Loretta Lynch attempted to address the problem as part of the Department of Justice's national guidance on gender bias in law enforcement response to domestic violence and sexual assault. One of the principles outlined in the guidance is to "hold officers who commit sexual assault or domestic violence accountable." It seems highly unlikely this problem will be tackled by our current attorney general, Jeff Sessions, who has said he thinks systemic problems in police departments basically don't exist.
While the trial of the two NYPD detectives proceeds, state and local officials have begun to take action. Gov. Andrew Cuomo last week announced a budget amendment that would remove the availability of the consent defense and prohibit sexual contact between police officers and those in custody. A similar bill recently passed in the Assembly and awaits action in the state Senate. Current state law prohibits corrections officers and probation officers from claiming consent when charged with sexual abuse of incarcerated people. These legislative measures would bring those in police custody under the law's sensible protections as well.
The NYPD Civilian Complaint Review Board also voted last week to start investigating cases of sexual harassment and assault by officers. Previously, these cases were referred by the board to the department's Internal Affairs Bureau. This change, which should have been made long ago, is welcome. Allegations of sexual misconduct by officers should be subject to thorough and independent investigations. When officers use their authority to threaten the safety of those less powerful, the public needs to have ways to hold them accountable. Without this accountability, women will continue to pay a heavy price.
Learn More About the Issues on This Page