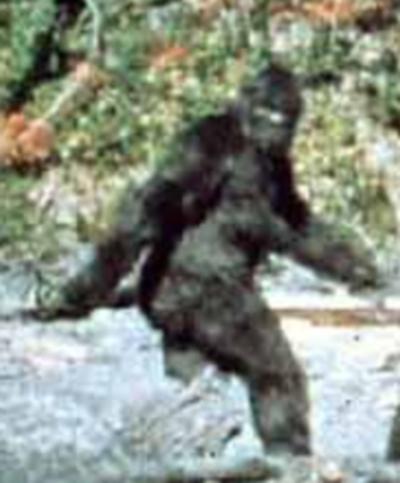 The ACLU of New Hampshire is suing the state on behalf of America's favorite furry, bipedal humanoid. Well, actually — on behalf of a human filmmaker and performance artist who was barred from filming his ape suit adventures at a local mountain.
Jonathan Doyle made his first appearance as Bigfoot in September 2009, when he donned the costume and ran across the top of Mt. Monadnock. Then, in street clothes, he filmed bystanders talking about what they saw. As Doyle told the media: "People loved it. It was socially engaging. When I showed up at the top of the mountain dressed as Bigfoot and beating my chest, everyone just laughed and hoorayed."
Apparently, park manager Patrick Hummel was not as captivated by the Sasquatch sighting. When Doyle and friends returned to the mountain later that month to make another film, Hummel cut them off, barring them from filming without first obtaining a $100 special-use permit 30 days in advance, along with a $2 million insurance bond.
Doyle and his counsel at the ACLU of New Hampshire argue these requirements constitute a clear violation of the First Amendment. Jon Meyer, cooperating attorney on the case said:
The underlying activities are humorous, but the principle's important. We're talking about a very small-scale activity in a very large place. We don't believe there's any legitimate government role in regulation.
We'll keep you posted on what comes next. We hope the courts will rule in our favor and show that in America, free speech is more than an elusive myth.
Learn more about free speech: Subscribe to our newsletter, follow us on Twitter, and like us on Facebook.