Back to

News & Commentary
ICE Contractor Tries to Scare Activists With Legal Threats, Free Speech Be Damned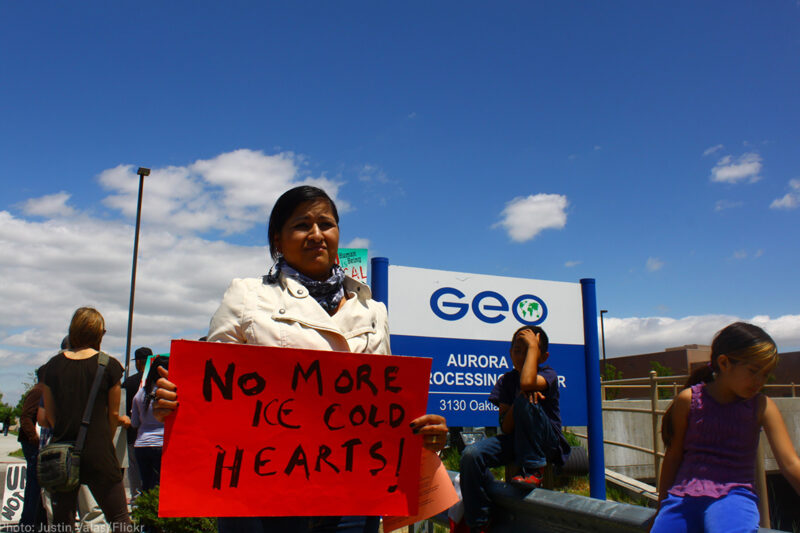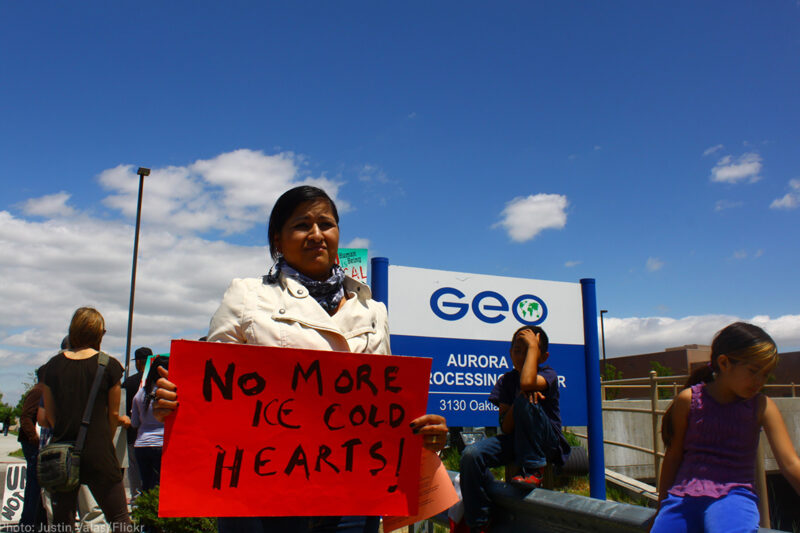 It has been a rough week for the GEO Group, a private prison company that contracts with U.S. Immigration and Customs Enforcement to lock up undocumented immigrants. And it's making the contractor lash out in erratic fashion.
All week, activists have been raising support for a national day of action against GEO Group, which has been profiting off of the Trump administration's war on undocumented immigrants. And on Tuesday, a federal judge certified a class action against GEO for systematic wage theft of detained immigrants, who are paid $1 a day as part of GEO's Voluntary Work Program.
Under pressure from activists, GEO did what too many embattled corporations do: It threatened to sue. GEO's lawyers served a cease-and-desist letter on Dream Defenders, the Florida-based human rights organization that had called on allies to push their elected officials to cut ties with GEO, rally at GEO prisons and detention centers, and "creatively disrupt" GEO offices on August 7.
The letter accuses Dream Defenders of making "knowingly false statements" which "likely give rise to… claims for defamation and tortious interference with GEO's contracts." Not content with making baseless defamation claims, GEO goes on to accuse Dream Defenders of "inciting a dangerous 'disruption'" and "encouraging threatening and violent behavior."
Neither of these allegations passes the laugh test. First, the allegedly defamatory statements — that GEO "separates" and "cages" people, that it "puts Black, Latino and poor White people into jail" and that it asserts "improper influence over the United States political system" — are protected statements on matters of public concern. As Dream Defenders' nonplussed response details, these are far from verifiably false statements, which GEO would need to show in a defamation lawsuit.
In fact, Dream Defenders' statements are well founded. The response letter highlights factual support for each of the allegations cited in GEO's letter, from GEO's own promotional materials referencing their sale of "steel cages" to news reports of GEO's lucrative involvement in family separation.
Against the weight of lawsuits, news reports, and government investigations into the company's practices, GEO's contention that Dream Defenders spread information they knew to be false falls flat. The activists' allegations are exactly the kind of political speech that is protected against government censorship and defamation civil lawsuits.
By the same token, calling on allies to "creatively disrupt" GEO's "business-as-usual" is quintessential political speech, not incitement. GEO argues that Dream Defenders' call for protest amounts to "encouragement" of unlawful behavior. But there are countless lawful ways for activists to heed Dream Defenders call for protest, and GEO's letter fails to identify a single statement by Dream Defenders that instructs activists to break the law. In any case, even speech encouraging unlawful action is protected by the First Amendment, as we recently argued to a federal appeals court. Although GEO considers Dream Defenders' rhetoric "reckless" and "incendiary," a call for protest is not a parliamentary motion, and activists are not required to observe Robert's Rules of Order. The First Amendment protects "reckless" and "incendiary" rhetoric, so long as it doesn't intentionally and directly incite immediate violence.
Cease-and-desist letters like GEO's can do serious damage to public discourse, even if the claims themselves are ultimately rejected in court. Strategic lawsuits against public participation (also known as SLAPP cases), like the one threatened here or the lawsuit filed last year against Greenpeace and other environmental groups, use the risks and costs of litigation to silence those who speak out against corporate malfeasance.
Facing outrageous damages claims and ruinous legal costs, many critics choose to self-censor rather than risk annihilation. Defending these cases is a heavy burden, particularly for nonprofit organizations like Dream Defenders, which don't have the same deep pockets as their corporate adversaries. Resources that should be spent on advocacy would be diverted to legal costs, which suits the corporate plaintiff just fine.
That's why it's important to respond loudly and clearly to groundless threats like the one GEO made in response to a week of bad press. To quote the Dream Defenders, "Nah."