Back to

News & Commentary
Federal Government Set Deportation Quota - USA Today Reports on Records First Uncovered by ACLU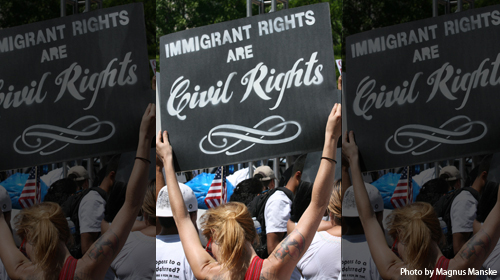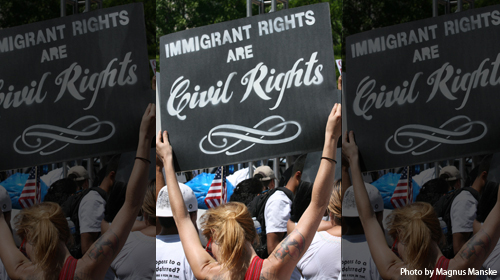 by Raul Pinto, ACLU of North Carolina
In a front-page story published in today's USA Today, the results of our investigation of the comingling of local law enforcement agencies and U.S. Immigration and Customs Enforcement ("ICE") in the southeast were made public. During a "seatbelt" checkpoint conducted last May by the Jackson County, North Carolina Sheriff's Office, ICE implemented one of its many initiatives to ensure that the number of criminal deportations achieved the prior year's level. In simpler terms: a quota.
Why were ICE officers concerned with enforcing local seatbelt laws, you may be wondering? They weren't. They were there to interrogate drivers about their immigration status. Many U.S. citizens and lawful residents were detained for up to 45 minutes on their way to work to prove their immigration status, and fifteen aspiring citizens were taken into ICE custody that morning.
The ACLU of North Carolina launched an investigation into this checkpoint, which included a Freedom of Information Act request to ICE. The findings were disturbing. Along with implementing a policy of participating in checkpoints throughout the southeast, ICE also proposed rummaging through North Carolina Division of Motor Vehicles records for immigrants who applied for a driver's license but could not meet the immigration requirements imposed by a 2006 state law. Another ICE initiative was to deem individuals with no operator's license as criminal aliens.
This system breeds violations of constitutional rights, and promotes racial profiling by ICE officers and local law enforcement agencies. The former supervisor of ICE field offices, David Venturella, was quoted in today's USA Today article as saying that many of John Morton's aides seemed to think that their careers depended on the number of deportations going up. Accounts of how the checkpoint initiative was implemented by the Jackson County Sheriff's Office suggest that sheriff's deputies stopped only Latino drivers during the checkpoint and that drivers who were wearing their seatbelts and hold valid North Carolina driver's licenses were pulled over to be interrogated by ICE.
These tactics, and racial profiling in particular, violate the right guaranteed by our Constitution to be treated equally under the law. Racial profiling is ineffective, wasteful, and unconstitutional law enforcement that regularly deprives people of their freedom without due process. ICE's practices cast a dragnet where law-abiding, hard-working, contributing members of our communities are caught, including U.S. citizens and lawful residents. They also highlight the need for the federal government to take affirmative steps to make sure this does not happen again, as well as the necessity of fixing our broken immigration system (including enforcement).
As President Obama and Congress take up immigration reform, the ACLU has developed a framework and urges policymakers to promote its priorities in any proposals. The framework is available here.
Learn more about immigrants' rights: Sign up for breaking news alerts, follow us on Twitter, and like us on Facebook.