If most employers learned that their employees had been falling asleep on the job out of sheer boredom, the last thing they would do is hire more people to do the same work. That, however, is just what U.S. Customs and Border Protection (CBP) has done in recent years — as spending continues to balloon in spite of a dramatic decrease in the number of apprehensions along the border.
Today, the House Appropriations Homeland Security Subcommittee will hold a hearing on a proposed budget for CBP in 2013, featuring testimony from Michael Fisher, Border Patrol chief, and several CBP assistant commissioners. Unfortunately, the Department of Homeland Security's 2013 budget request continues down the same path of excessive, wasteful spending that has characterized the last decade.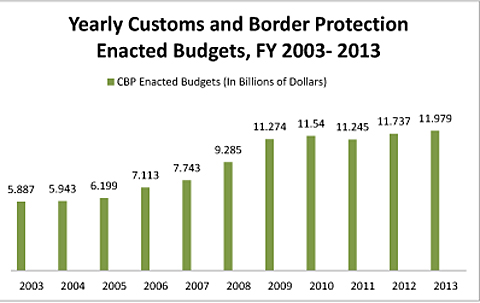 *Note: The FY 2013 budget figure comes from the FY 2013 President's Budget. It does not represent the final enacted budget.
Source: DHS Budget-In-Brief, various years, available at: http://www.dhs.gov/xabout/budget/dhs-budget.shtm
DHS Secretary Janet Napolitano announced just last week that Border Patrol apprehensions have fallen 53 percent in the past three years alone, and are currently less than 20 percent of what they were at their peak. This trend is not new: apprehensions on the Mexican border are down 80 percent since 2000, making 2011 CBP's slowest year since 1971. It's no surprise then that agents report severe boredom, and that a number of them have been disciplined for falling asleep during patrols. Some are so desperate to fill the hours that they are apprehending immigrants who are attempting to leave the United States at the Southwest border, placing them in deportation proceedings, and all at taxpayer expense. Border Patrol Agent Christian Sanchez testified before the Congressional Transparency Caucus that CBP is betraying taxpayers, saying "The spending is to expand bureaucratic turf, not to protect our nation."
But DHS's response to this unwarranted spending has been to spend even more. As the workload has decreased, the flow of taxpayer dollars being thrown at the border has steadily increased. This year's budget request includes nearly $12 billion for CBP, double the agency's budget from 2004. The number of Border Patrol agents has also doubled since 2004, from 10,000 to 21,370, with little regard for actual border security needs. Contributing to this massive price tag are enormous overtime expenses, with Border Patrol agents averaging two hours per day in overtime. In 2011 alone, Border Patrol paid $331 million in overtime, totaling about $1.4 billion in the past six years.
Overspending at the border is more than just financially wasteful, however. It also enables and encourages racial profiling. With extra time on their hands and little action at the borders, CBP agents have shifted their focus to interior enforcement, claiming the authority to question people about their immigration status anywhere within 100 miles of an international boundary—an area that includes two-thirds of the U.S. population.
Many individuals report being targeted by CBP as a result of their appearance or accent. In New York, for example, armed Border Patrol agents have been known to raid domestic trains and buses that never leave the U.S., waking up passengers to demand papers proving legal status and detaining those who fail to produce them.
In the State of Washington, local police call in CBP agents to act as interpreters in traffic stops and minor investigations, allowing them to check the immigration status of those involved. In the city of Forks, which is 60 miles from the nearest ferry crossing into Canada and 200 miles from the nearest land crossing, Latinos in the community report that they have been stopped and asked for papers by CBP agents at gas stations, grocery stores, farmers' markets, on bicycles and even while paying bills at city hall.
As appropriators in Washington, D.C., hear testimony today and consider how to allocate resources in the financially strapped coming year, they should take a serious look at CBP's track record of wasteful spending and racial profiling that targets immigrants.
And taxpayers who don't want to contribute to such practices should do the same.
Learn more about racial profiling: Sign up for breaking news alerts, follow us on Twitter, and like us on Facebook.
Learn More About the Issues on This Page