Back to

News & Commentary
We Don't Think an 8-Year-Old Boy Should Be Put in Handcuffs. A Judge Finally Agreed With Us.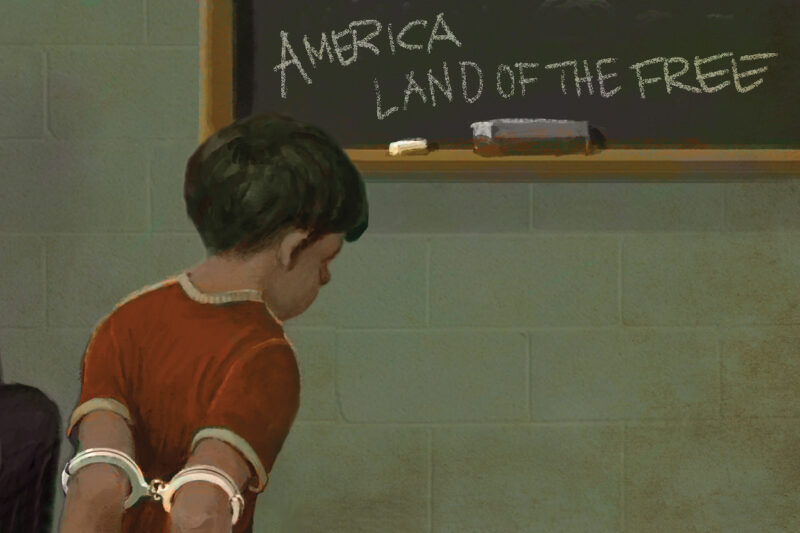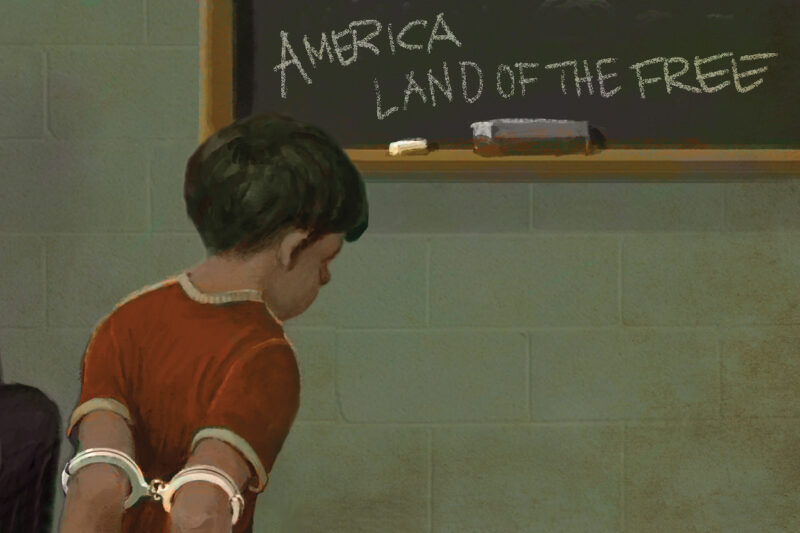 In the fall of 2014, "SR," a little 8-year-old boy in Kenton County, Kentucky, had a terrible day at school. The assistant principal put him in a restraint hold after he yelled at kids who were mean to him. And then she confined him to her office, where he kicked and screamed to be let out because he needed to go to the bathroom.
But then it got worse.
The assistant principal called the local deputy sheriff who served as a school resource officer (SRO). By the time Deputy Sheriff Kevin Sumner arrived, SR had calmed down. He had spoken to his mother, and the assistant principal had told him he could go to the bathroom when the deputy arrived. When they returned from the bathroom, the deputy sheriff said SR — all 54 pounds of him — swung an elbow at him. The deputy sheriff's response was to clap him in handcuffs.
Really. We could barely believe it either, but the assistant principal video-taped it. So the Disability Rights Program of the National ACLU filed suit, along with the ACLU of Kentucky, the Children's Law Center of Cincinnati, and the law firm of Dinsmore Shohl.
Months of discovery showed that Deputy Sheriff Sumner had handcuffed another young plaintiff twice and had also handcuffed up to 20 other children. Nonetheless, Sheriff Charles Korzenborn of Kenton County declared, "I steadfastly stand behind Deputy Sumner." The sheriff also said, on the record, that handcuffing children behind their backs was an acceptable practice for his deputies.
Law enforcement officers treat young students as if they were criminals instead of kids.
Yesterday, the court disagreed. Federal District Court Judge William O. Bertelsman found that the handcuffing of these two children was "an unconstitutional seizure and excessive force." Judge Bertelsman also found, as a matter of law, that Kenton County is liable for the handcuffings.
Across the country, young children see more and more law enforcement in their schools. While the ostensible purpose of these SROs is to keep students safe, the actual effect has too often been the opposite. Law enforcement officers treat young students as if they were criminals instead of kids. Children are thrown to the floor for refusing a command, arrested for talking back, and handcuffed for temper tantrums. Statistics show that law enforcement are more likely to take these wildly inappropriate reactions if the child is a student of color with a disability.
These interactions traumatize students, make them hate school, and send them down the school to prison pipeline. And as we have seen too often, most courts are reluctant to interfere with law enforcement, even in cases where students are the victims of overly aggressive police tactics.
So Judge Bertelsman's decision is a significant win. Not only did the court find that the sheriff's office was wrong, the judge reached this decision at summary judgment, issuing a decision on these issues before the case even went to trial.
At this stage, the court has to give the sheriff the full benefit of the doubt — assuming that everything happened exactly as the deputy sheriff claimed. But even with this wide deference, the judge held the sheriff's office liable and their actions unconstitutional. As Judge Bertelsman noted, even if SR swung an elbow at Officer Sumner, this "can hardly be considered a serious physical threat from an unarmed, 54-pound eight-year-old child."
We couldn't agree more.
In this decision, Judge Bertelsman has made schools safer for many children — and put a small crack in the school to prison pipeline.
Learn More About the Issues on This Page