At the ACLU, we've long believed that real people's stories about their lives are the key to changing the minds of the public when it comes to full equality for same-sex couples. And some stories we've been hearing from some of the plaintiffs in Donaldson and Guggenheim v. Montana, a case we recently filed in Montana, really bear that out. The plaintiffs in this case want the right to protect their families with the same kind of legal protections that opposite-sex couples are offered through marriage. Because Montana has a constitutional amendment barring marriage for same-sex couples, the couples in the lawsuit are asking for state-recognized domestic partnerships, similar to those in place in several other states.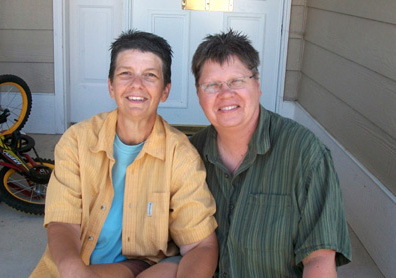 Kellie Gibson and Denise Boettcher
Kellie Gibson (left) and her partner of 11 years, Denise Boettcher, live in Laurel, Montana. A few days ago, Kellie sent me a note she received on Facebook from a former coworker:
"I am not sure if I ever told you this, but I came from a very conservative background… (I)t is often hard to separate ourselves from some of the stereotypes and prejudices we've grown up with about marriage / families / etc…

"Regardless, I want you to know that you guys have really impacted my views about family and I enjoy using your story (not specifically using your names) in discussions about gay marriage, equal rights, etc… It's funny how some of the most staunch anti-gay (and yep, I'm not mincing words) folks I know tend to soften when they actually hear true stories about people who are truly impacted by the biases."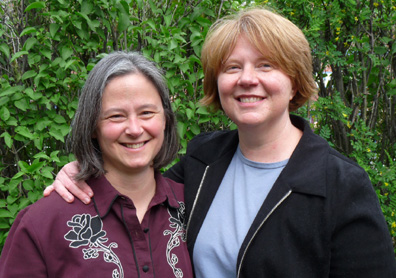 Mary Leslie and Stacey Haugland
One of the other plaintiffs in the case, Mary Leslie, manages the meat department at the Bozeman Food Co-op. Her partner of 12 years, Stacey Haugland, who works as a certified professional midwife, says they've had similarly positive reactions:
"All day long people come up to the meat counter and THANK Mary for participating in the lawsuit. My clients have thanked me — all of them. My conservative Christian clients (that I was worried I would lose) have decided to pay me early so that I understand where I stand with them. And then it's the little interactions, the waitress at the cafe complimenting us on the nice article, the strangers on the street who say, 'Way to go, you're famous now' when we are out on our middle-aged lady after dinner walks. Every positive letter in the Bozeman Chronicle has been written by someone we know — I was their midwife, we worked together on a human rights schools initiative, etc. The affirmation of our place in this community has been constant and overwhelming.

"Last night we ran into one of the local preachers I have worked with on many issues over the years. She asked if we had had any hate mail. Reassured that the opposite was in fact the case, she told us to call the minute we got any flack and she and her congregation would be there for us. Really, it has been lovely for us."
The next day, Stacey had even more to report: "Mary was approached by an elderly woman in the store yesterday. 'You're the woman in the lawsuit!' And this was the first time Mary thought she was going to get a negative reaction. But the woman followed with, 'My daughter and her girlfriend are expecting their second child next month in California. It's about time Montana catches up with our families.' It is amazing to see how deeply people are touched by this issue."
Kellie and Denise had a surprising encounter as well one day when they went to pick up their five-year-old son: "Today, a parent came up to us outside of where Morrgan was going to Vacation Bible School. We did not know her. She started out by saying, 'You are the people that have been in the paper.' Denise said yes and extended her hand. The woman says, 'I just want you to know I am a supporter.' Our kids will be in kindergarten together. It was an amazing exchange."
You don't have to be a plaintiff in an ACLU lawsuit to help your friends, neighbors, and coworkers better understand our lives and why it's important to support legal protections for same-sex couples. As University of California, Davis, psychology professor Gregory M. Herek's research points out, in order to really change anti-gay attitudes about our relationships it's important for all LGBT people to not just be out — we have to really share the truths of our lives, our commitments, and our experiences with those around us.
Like Kellie's former coworker discovered, talking with people in your life about the real lives of real families can make a very, very real difference. You can learn more about how to start these conversations at our Tell 3 website.