Back to

News & Commentary
Constance McMillen Wants You to Urge Congress to Pass the Student Non-Discrimination Act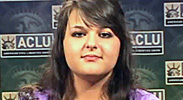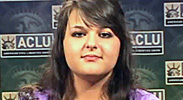 ACLU client Constance McMillen made headlines this spring when her Mississippi high school took the extraordinary step of canceling the school prom rather than allow her to go with her girlfriend and wear a tuxedo. But as humiliating as that experience was — she was eventually sent to a "decoy" prom that was attended by only a few other students while the rest of her classmates attended a private prom 30 miles away — McMillen has reason to be proud of this pride season. This evening she will join President Obama at a White House ceremony recognizing the contributions of LGBT Americans. Sunday, she will be a grand marshal in New York City's pride celebration. She has also been asked to participate in pride celebrations in Los Angeles and San Diego, and is the guest of honor this Friday night at the "All Love, All Woodstock" party in Woodstock, N.Y.
Not one to rest on her laurels, McMillen met with members of Congress today in hopes of getting them to pass the Student Non-Discrimination Act, which would bar discrimination based on "actual or perceived sexual orientation or gender identity" in public elementary and secondary schools. In the following short video, McMillen asks everyone to write their elected officials in Congress to support the bill.
Please note that by playing this clip You Tube and Google will place a long-term cookie on your computer. Please see You Tube's privacy statement on their website and Google's privacy statement on theirs to learn more. To view the ACLU's privacy statement, click here.