Back to

News & Commentary
DADT on Trial: VICTORY! Judge Orders Air Force to Reinstate Maj. Margaret Witt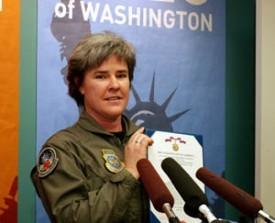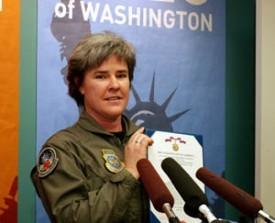 Great news! U.S. District Court Judge Ronald B. Leighton has ordered the Air Force to reinstate flight nurse Maj. Margaret Witt. Maj. Witt was discharged from the Air Force in 2006 under the military's unconstitutional Don't Ask, Don't Tell policy.
Judge Leighton found, after a six-day trial that ended earlier this week, that Maj. Witt's sexual orientation did not negatively impact unit cohesion or morale. In fact, as several members of Maj. Witt's former unit testified at trial, her discharge was "devastating" and "negatively impacted the unit."
Maj. Witt said in a statement today: "I want to serve my country. I have loved being in the military – my fellow airmen have been my family. I am proud of my career and want to continue doing my job. Wounded people never asked me about my sexual orientation. They were just glad to see me there."
Along with the decision earlier this month by federal court Judge Virginia A. Phillips that DADT had a "direct and deleterious effect" on the armed services, today's decision demonstrates, yet again, how counterproductive and discriminatory the Don't Ask, Don't Tell policy is.
While the Senate failed to take up the Defense Authorization Act and DADT repeal Tuesday, the issue will be back in a matter of weeks, and it is critical to keep the pressure on. Urge Congress to act this year to finally end DADT once and for all.