Aloha from Honolulu, Hawaii, now the seventh state in the nation to recognize civil unions for same-sex couples. Recently, our new Gov. Neil Abercrombie signed the civil unions bill into law, stating "E komo mai: it means all are welcome. This signing today of this measure says to all of the world that they are welcome. That everyone is a brother or sister here in paradise."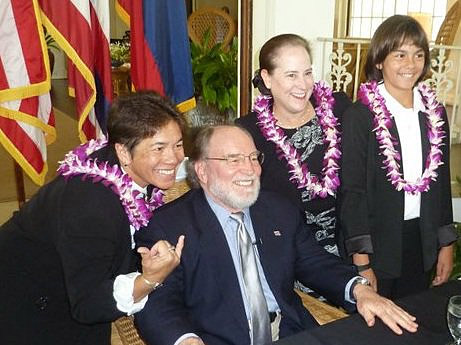 Tambry Young, Suzanne King and their daughter, Shylar Young, with Gov. Abercrombie at the civil unions bill signing ceremony at Washington Place, Honolulu, Hawaii, on February 23, 2011. Tambry and Suzanne were the lead plaintiffs in our case, Young v. Lingle, charging the state with failing to provide equal treatment to same-sex couples. That lawsuit will soon be over now that the civil unions bill has been passed.
With the passage of the civil unions bill, same-sex couples will finally receive the aloha for which they have fought so long and hard and the security, stability and dignity so necessary to raising strong families and communities. Those same-sex couples who left Hawaii for better family protections on the mainland can consider returning to their island homes and communities. Same-sex couples who come to Hawaii for their weddings, honeymoons and vacations will no longer have to settle for a ceremony that isn't legally binding and worry about whether their relationship will be questioned if that scuba trip results in a hospital visit. Hawaii can truly be a paradise for all Hawaii's families.
We are ecstatic that same-sex couples will now be able to obtain the same rights and benefits that Hawaii provides to opposite-sex married couples, although we recognize that civil unions is just a step, although a big one, towards true equality for same-sex couples.
The passage of the civil unions bill is long overdue for Hawaii, which came into the national spotlight around the freedom to marry in the early 1990's, when the Hawaii Supreme Court ruled that Hawaii's ban on marriage for same-sex couples violated the Hawaii Constitution's equal rights protections. This ruling led to a constitutional amendment that gave the legislature the power to define marriage and grant protections to same-sex couples.
Since then, many bills seeking to do just that have come and gone through the legislature. Most disappointingly, a civil unions bill actually passed the legislature in 2010 only to be vetoed by our former governor, Linda Lingle. It was at this time that the ACLU of Hawaii, Lambda Legal and Alston Hunt Floyd & Ing filed a lawsuit against the State of Hawaii, arguing that the state's failure to provide same-sex couples with "civil union" rights and responsibilities violated the Hawaii Constitution. However, with the election of Gov. Abercrombie and his pledge to sign the civil unions bill, as well as the election of supportive legislators, the ACLU of Hawaii and its equal rights allies saw a legislative victory on the horizon.
Although the passage of the civil unions bill is just one step towards true equality, it is nonetheless a victory that will continue to inspire and motivate the LGBT community and its allies to continue fighting for equal rights in the face of bigotry and ignorance. It is a victory for equal rights and a validation of the decades-long work of advocates who paved the way to civil unions. It is a celebration of Hawaii's commitment to freedom and justice and the promise of a new day for equal rights in the rainbow state.
Aloha, a hui hou! ("Warmest regards until we meet again!)
Learn more about LGBT rights: Subscribe to our newsletter, follow us on Twitter, and like us on Facebook.