Back to

News & Commentary
Happy Anniversary, New York! A Look Back on an Important Year for the Freedom to Marry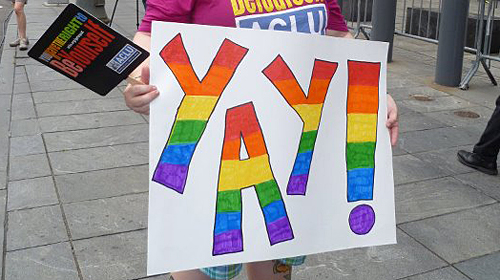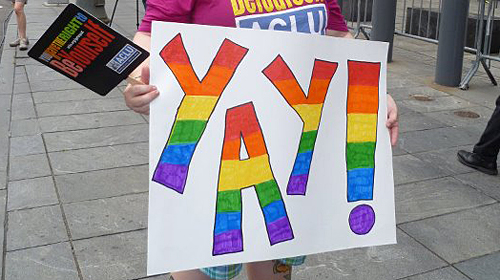 On July 24th, 2011, Phyllis Siegal, 77, and Connie Kopelov, 85, became the first same-sex couple to be married in New York City, 23 years into their relationship. The experience was "just so amazing," Siegal explained to CNN reporters at the time. "It's the only way I can describe it." On that first day, New York City's clerk office was overwhelmed with 2,600 requests for marriage licenses.
This week marks Phyllis and Connie's one year anniversary, and the anniversary of the New York Marriage Equality Act taking effect. Last summer, New York followed Connecticut, Iowa, Massachusetts, New Hampshire, Vermont, and Washington DC in achieving full recognition of marriage for same-sex couples. It also became the most populous state to do so — passage of the Marriage Equality Act more than doubled the number of gay couples nationwide who can obtain a marriage license in their home state. It is estimated that over 11,000 same-sex couples have been married in New York in the last year – approximately 8,200 marriages performed in New York City and 3,400 performed elsewhere — although the actual numbers are likely higher. And another effect has been immense, and tangible: business from the evolving same-sex wedding industry has provided New York with $259 million this year.
Outside New York, significant advancements and heated political disputes over the past year have propelled this issue even further into the national spotlight. In February, the U.S. Ninth Circuit Court of Appeals upheld a ruling that declared Proposition 8, the amendment banning marriage for same-sex couples in California, unconstitutional. Disappointingly, voters in North Carolina approved a constitutional amendment banning all forms of relationship recognition for same-sex couples in May. However, just a day later, President Obama became the first sitting president to announce his support for marriage for same-sex couples. Soon after, Barbara Jones became the fifth federal judge to declare the Defense of Marriage Act unconstitutional in the ACLU/NYCLU/Paul Weiss case Windsor v. United States. Energized, advocates have continued to push for the passage of the Respect for Marriage Act, a proposed bill that would invalidate DOMA and would recognize marriages of same-sex couples on the federal level. And in Maine, Maryland, Minnesota and Washington State, ballot measures on the upcoming November ballot will address the rights of same-sex couples to marry.
Ultimately, it has been an incredibly important year for the debate on the freedom to marry, and related litigation and legislation. The issue has been at the forefront of cultural and political attention in the aftermath of New York's achievement last summer. The Marriage Equality Act is a monumental piece of legislation: it has changed thousands of lives and will continue to do so, and it has made an important contribution to the national attitude. We look back on this past year with equal parts caution and hope, as we prepare to continue the fight for equality in the politically contentious months ahead. In the meantime, we wish New York a very happy anniversary!
Learn more about LGBT rights: Sign up for breaking news alerts, follow us on Twitter, and like us on Facebook.