Back to

News & Commentary
Maryland: Breakthrough Moment on the Freedom to Marry!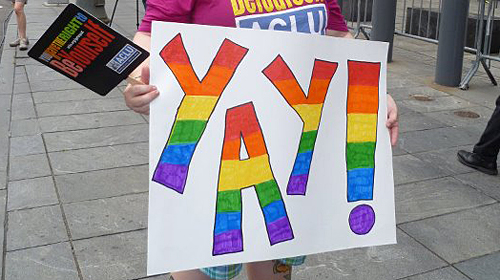 We're at a breakthrough moment in the struggle for fair marriage laws.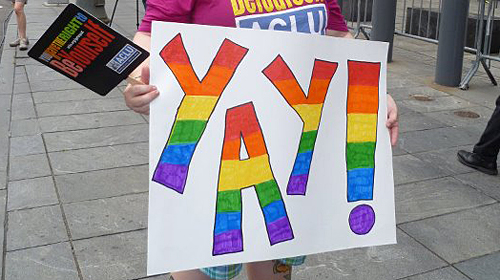 With yesterday's passage of a Maryland bill opening the freedom to marry to same-sex couples, there's no denying it anymore – we're at a breakthrough moment in the struggle for fair marriage laws.
The Maryland marriage law passed the state Senate 25-22 yesterday, after passing the House 72-67 last Friday, and was the result of leadership by the governor and lots of hard work by the Marylanders for Marriage Equality coalition, of which the ACLU is a proud and active member. Even amidst the joy in Annapolis this week, we and the coalition are preparing for the possibility that our opponents will manage to put the marriage law on the ballot this coming November. Part of that work will be highlighting our many, diverse, and growing supporters across the state. A majority of Marylanders are with us and momentum continues to build!
In just the last month, three state legislatures have voted to let same-sex couples marry: Washington, New Jersey, and now Maryland. Gov. Chris Gregoire signed the Washington bill right away, and Gov. Martin O'Malley will do the same in Maryland (both governors vigorously pushed for the bills). In contrast, Gov. Chris Christie vetoed New Jersey's bill, earning himself a place in history as a defender of discrimination. However the ACLU and our allies have almost two more years to gather the votes to over-ride that veto, and we're committed to making that happen.
One important voice that has been added to the equality chorus is from our friend Laura Murphy, director of the ACLU's Washington Legislative Office. She's from a legendary civil rights family in Baltimore and joined her brother, prominent attorney Billy Murphy, and niece, community activist Rebecca Murphy as "Marylanders for Marriage Equality," in the fight for the freedom to marry.
Laura explained, "One of the key lessons I have learned in my work as an advocate, both personally and professionally, is that for equality to have meaning, legal rights must extend to everyone."
If the marriage issue ends up on the Maryland or Washington state ballots next fall, we'll be there, working to convince voters that supporting the freedom to marry helps committed same-sex couples and their families, and hurts no-one.