My best friend is a gay man.
When I was 15, there only needed to be one other person in a high school of 3,000 who carried a copy of Camus' The Stranger under his arm and knew down to his bones what I am the son and the heir of a shyness that is criminally vulgar really means to make the world perfect, and I found him, or he found me, and so it was.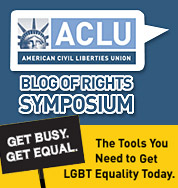 Two peas in a pod, attached at the hip, like-minded misfits in mail-order t-shirts and Doc Martens, whose collective nirvana was making light-headed pilgrimages to Wax Trax records to browse their dusty bins for long-awaited releases or rare bootlegs, shuffling among the other angsty shoegazers there for the same purpose. We dyed our hair and graffitied our leather jackets with images of the deities—The Smiths, The Cure, Siouxsie. Our tribe. We staked out our place among them and locked arms.
The world, or rather finding our places in it, has gotten a lot more complicated since then, but navigating it together makes it infinitely easier, because he is the kind of friend that everyone should be fortunate enough to have. He has seen me at my absolute worst—embarrassing, shameful stuff; he has known me to be stubborn, hurtful, uncompromising, inconsiderate, irrational. He has known me to lie. Some of it was directed at him. Some of it caused huge fights. And he has, graciously, forgiven me every time, because he made our friendship worth earning his forgiveness.
He has also seen me at my best, which, in the weird way of the criminally shy, is sometimes even harder for me to fully share than my worst. But he knows my heart truly, in the way few people do.
I have seen him at his worst and his best, too.
Our intertwined lives have left me with indelible memories of all the things we've done as a duo—writing an underground paper together, writing a shitty screenplay together, making silly movies together, living together, working together, vacationing together, attending innumerable concerts together, celebrating our 9-days-apart birthdays, seeing thousands of films, getting drunk, doing drugs, hanging out, wasting time, spending nights talking 'til dawn, laughing until we are gasping for air and swearing we shall never recover.
And then there's the stuff that happened to us individually, for which the other stood by, cheering for triumphs and helping pick up the pieces after disasters. The 18 years, more than half our lives, we've spent as confidants, conspirators, and comrades have, after all, spanned the years during which we stumbled along the uneven path toward adulthood—and it's a path along which he came out, I was raped, and both of us fell in and out of love, sometimes in spectacularly heartbreaking fashion.
I was married and divorced young. He was my best man at my wedding, and the only person in whom I could totally confide when my marriage really began to fail, making him the best man at my divorce, too. I swore off marriage—but when I met and fell in love with a Scotsman, and our being together depended on getting that piece of paper, my best friend was there to go out with us for burgers after our 10-minute ceremony at the courthouse.
Someday, I would like to be his Matron of Honor.
Or his Best Woman. Whatever he wants to call me.
I want to help plan his bachelor party; I want to organize a shower; I want to help plan the most beautiful, elaborate, over-the-top wedding extravaganza or the trip to the courthouse or whatever he wants in between. I want to see him stand beside a man that he loves, as I've been able to do, and have their relationship legally recognized. I want to see him kiss the groom, lingeringly and lovingly. I want to give a toast at the reception where I announce that I can already feel his gay marriage undermining the sanctity of mine, and watch him laugh while he snuggles in against his new husband's shoulder.
I want all these things for him. And there's no reason, not a one, why he shouldn't have them. Which is why I'm going to keep on working my one little teaspoon to do whatever I can to make sure he does.
I wasn't sure how I was going to end this piece, but my dear best friend—who doesn't even know that I'm writing it, and who recently ended a long-term relationship—just now, as I wrote, serendipitously sent me the following e-card: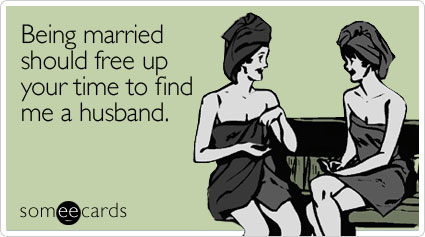 "Just a reminder….. ;-)" he added, and signed it "Chewbacca."
I'm working on it, doll.