It's official. Same sex couples can get married in California, as of 5 p.m. PST on Monday. While most people in the GLBT community are celebrating the decision, my excitement was rather muted. While I am touched by the stories of couples getting married after 50 years together, I know that marriage isn't my golden ticket. Marriage isn't my golden ticket unless I'm lucky enough (or even want) a long-term monogamous partnership. It isn't my golden ticket unless I have a job or a partner with healthcare benefits. It isn't my golden ticket unless I have an inheritance to worry about, or a pension to be concerned with.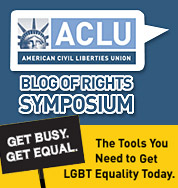 Mattilda Bernstein Sycamore, a radical activist and writer has been one very vocal voice of dissent. From her piece at Alternet:
Gay marriage does nothing to address fundamental problems of inequality. What is needed is universal access to basic necessities like housing, health care, food, and the benefits now obtained through citizenship (like the right to stay in this country). Legalized gay marriage means only that certain people in a specific type of long-term, monogamous relationship sanctioned by a state contract might be able to access benefits. While marriage could confer inclusion under a spouse's health-care policy, it does nothing to provide such a policy. Marriage might ensure hospital visitation rights, but not for anyone without a spouse. Marriage may allow for inheritance rights between spouses, but what if there is nothing to inherit?
While I would not go as far as Mattilda to say that I oppose the CA marriage decision, I agree with her that a movement so focused on marriage is not a movement that represents my activism and interests. She also makes the important point that marriage is not a cure-all. So many problems exist in our society that deserve our attention and it's upsetting to me to see the majority of the resources of our movement being allocated to marriage-only fights. Social benefits should not only be afforded to those who enter into long-term romantic partnerships. I said as much on a recent segment of NPR's Here and Now.
Thankfully there are groups and activists who are working for a broader vision of what marriage equality might look like. Queers for Economic Justice put out a Beyond Marriage statement in 2006, with pages of important sign-ons in support of their principles:
The current debate over marriage, same-sex and otherwise, ignores the needs and desires of so many in a nation where household diversity is the demographic norm. We seek to…diversify and democratize partnership and household recognition. We advocate the expansion of existing legal statuses, social services and benefits to support the needs of all our households.
As a queer Latina working in the reproductive justice movement, my vision of social justice focuses on putting the needs of the most marginalized members of our community at the center of our organizing. The current marriage-focused movement fails to do this. Issues like universal health care, immigration reform, comprehensive sex education, ending gender-based discrimination and violence are central to my activism and I would love to see a queer movement that reflected these values as well.