Back to

News & Commentary
One Year After the Orlando Nightclub Shooting, Solidarity Continues Its Struggle Against the Forces of Division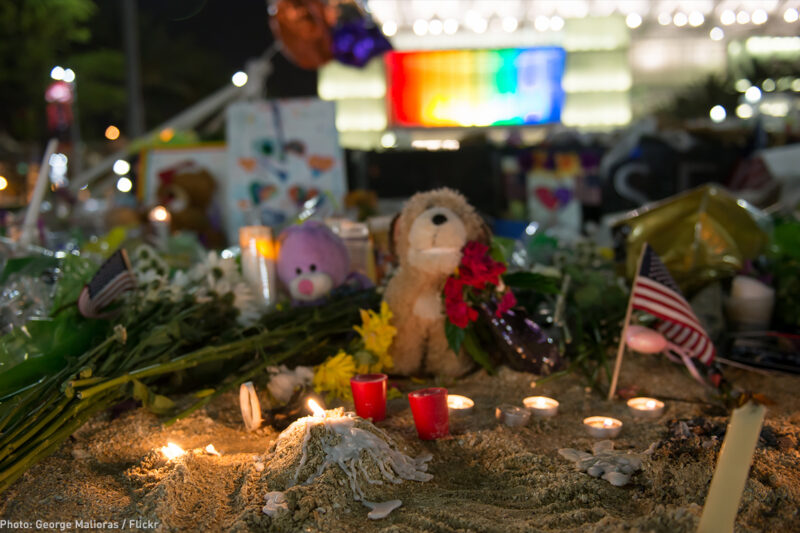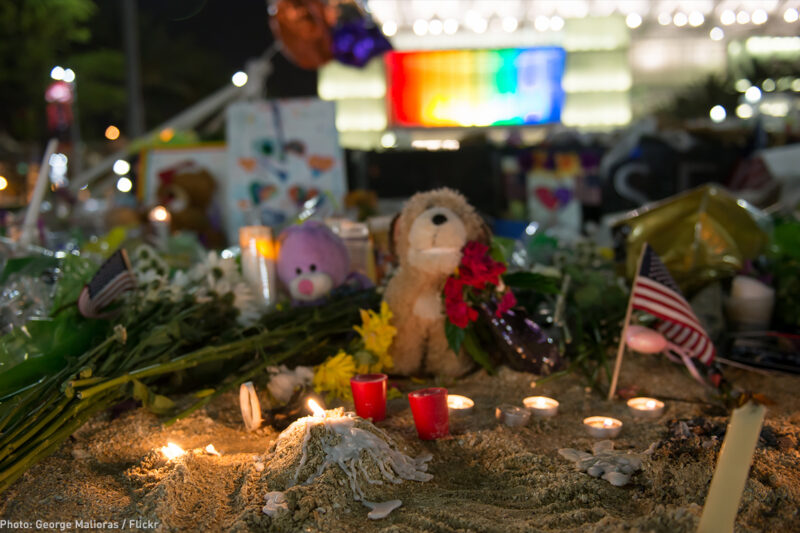 On the morning of June 12, 2016, I awoke to the horrifying, devastating news that there had been a mass shooting at an LGBTQ nightclub in Orlando, Florida. The scope of the tragedy was not yet clear at that point, but I already had feelings of dreadful sadness wash over me. I remember sobbing as I told my own partner what had happened at Pulse.
Forty-nine lives, overwhelmingly young and Latinx, were lost in the attack — the deadliest against the LGBTQ community in U.S. history.
As has so often been the case in the history of our country, tragedies like this show us the very worst of humanity, but they also bring out the best. The outpouring of compassion in the hours, days, and weeks following this attack infused a degree of hope into the most hopeless of situations. Within hours of the incident, attacks on Muslim, Arab, Middle Eastern, and South Asian communities began from anti-Muslim rhetoric to incidents of harassment and violence.
But the LGBTQ community would not let their tragedy beget more tragedy. In the midst of their own trauma and mourning, the LGBTQ community made clear that they would not stand silent while Muslims were attacked. And standing side-by-side with the LGBTQ community were Muslim communities, holding fundraisers for the victims and their families, donating blood, and offering statements of unity and solidarity. For many, this was the first show of support between these communities, while for others, including LGBTQ Muslims, it was much-needed love and solidarity in a moment of heartbreak.
Those who perpetuate attacks of violent hate do so with the goal of sowing division and turning us against each other. Time and time again, we see them fail. As President Barack Obama reminded the nation just hours after the attack:
So this is a sobering reminder that attacks on any American — regardless of race, ethnicity, religion or sexual orientation — is an attack on all of us and on the fundamental values of equality and dignity that define us as a country. And no act of hate or terror will ever change who we are or the values that make us Americans.
Over the past year, we have seen, sadly, still more violence perpetuated against individuals because of who they are, whom they love, or how they worship. In each case, we have seen communities come together and stand in solidarity to make clear that hateful violence does not represent us. We are better than that. We have each other's backs and will not be divided.
On this one-year anniversary of the tragedy at Pulse, that is the lesson that we should all seek to emulate.
The 49 people whose lives were lost in the attack at Pulse are:
Edward Sotomayor Jr. (34 years old)
Stanley Almodovar III (23 years old)
Luis Omar Ocasio-Capo (20 years old)
Juan Ramon Guerrero (22 years old)
Eric Ivan Ortiz-Rivera (36 years old)
Peter O. Gonzalez-Cruz (22 years old)
Luis S. Vielma (22 years old)
Kimberly Morris (37 years old)
Eddie Jamoldroy Justice (30 years old)
Darryl Roman Burt II (29 years old)
Deonka Deidra Drayton (32 years old)
Alejandro Barrios Martinez (21 years old)
Anthony Luis Laureanodisla (25 years old)
Jean Carlos Mendez Perez (35 years old)
Franky Jimmy Dejesus Velazquez (50 years old)
Amanda Alvear (25 years old)
Martin Benitez Torres (33 years old)
Luis Daniel Wilson-Leon (37 years old)
Mercedez Marisol Flores (26 years old)
Xavier Emmanuel Serrano Rosado (35 years old)
Gilberto Ramon Silva Menendez (25 years old)
Simon Adrian Carrillo Fernandez (31 years old)
Oscar A. Aracena-Montero (26 years old)
Enrique L. Rios Jr. (25 years old)
Miguel Angel Honorato (30 years old)
Javier Jorge-Reyes (40 years old)
Joel Rayon Paniagua (32 years old)
Jason Benjamin Josaphat (19 years old)
Cory James Connell (21 years old)
Luis Daniel Conde (39 years old)
Shane Evan Tomlinson (33 years old)
Juan Chevez-Martinez (25 years old)
Jerald Arthur Wright (31 years old)
Leroy Valentin Fernandez (25years old)
Tevin Eugene Crosby (25 years old)
Jonathan Antonio Camuy Vega (24 years old)
Jean C. Nives Rodriguez(27 years old)
Rodolfo Ayala-Ayala (33 years old)
Brenda Lee Marquez McCool (49 years old)
Yilmary Rodriguez Sulivan (24 years old)
Christopher Andrew Leinonen (32 years old)
Angel L. Candelario-Padro (28 years old)
Frank Hernandez (27 years old)
Paul Terrell Henry (41 years old)
Antonio Davon Brown (29 years old)
Christopher Joseph Sanfeliz (24 years old)
Akyra Monet Murray (18 years old)
Geraldo A. Ortiz-Jimenez (25 years old)