Our brothers and sisters are blazing a trail for civil equality with the advent of same-sex marriage in California this week. For those of us who don't live in the Golden State or Massachusetts (or other states with civil unions or domestic partnerships) recognition of our committed relationships may seem like a long way off.
Here in North Carolina we have no statewide anti-discrimination laws for LGBTs, no hate crimes protections, not even anti-bullying laws (though the School Violence Prevention Act has a fair chance of passing this time around). The only reference to marriage is the perennial filing of an onerous marriage amendment into the General Assembly.
We can be envious of those states that are moving farther and faster, but the gains move all of us one step closer to full equality, and our movement strengthens with that momentum. Even the opposition knows that time is not on its side, according to a new CBS poll.
30 percent say same-sex couples should be allowed to marry (this is the highest number since CBS News began asking this question in 2004, up from 21 percent).
60 percent believe that same-sex couples should be allowed to either marry or form civil unions.
50 percent of Republicans are against either of these options.
40 percent in the western portion of the U.S. favor marriage equality.
The groups most in favor of marriage equality — those under age 30, liberals, Americans living in the west, and those who never go to church.
The poll also found that Americans living in the South are least likely to support marriage equality, so moving that ball forward on all LGBT rights issues in more conservative parts of the country presents a challenge. The momentum is with us because more and more of us are choosing to live lives out of the closet — winning hearts and minds are won when LGBTs are visible. For instance, how on earth is the marriage of long-time gay rights advocates Del Martin and Phyllis Lyon going to destroy society?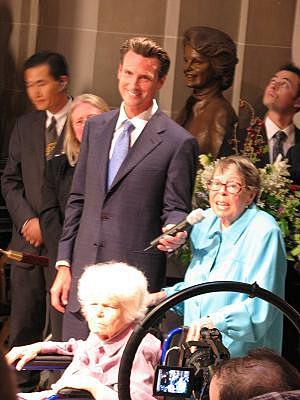 San Francisco Mayor Gavin Newsom (left) with Del Martin and Phyllis Lyon, the first same-sex couple to be legally married at City Hall on June 16, 2008. (Photo by Brad Luna, Human Rights Campaign).
How does it destroy family values when Massachusetts Governor Deval Patrick shows full public acceptance, support and love for his lesbian daughter who recently came out?
The fact is, our society is more stable when we can recognize these relationships — it makes us a stronger nation.
What we have to be prepared to do in less-hospitable states is to educate our potential straight allies. Friends, coworkers, and neighbors may in fact support anti-discrimination legislation and hate crimes measures, and approve of repeal of Don't Ask, Don't Tell. We cannot, however, assume potential allies know enough to be good advocates comfortable with the issues when discussing them with peers who may disagree. A couple of years ago, my wife and I had a conversation with an otherwise politically informed woman who thought:
Same sex marriage was legal in several states;
That we could marry in Massachusetts (out of state same-sex couples cannot if their home state doesn't recognize gay marriages);
States aren't successfully passing marriage amendments (every one that has made it to the ballot has passed so far except in Arizona).
But there shouldn't be any laughter about the above because a recent survey conducted at Hunter College found that most gays and lesbians don't know what their rights are either.
94 percent of respondents knew whether same-sex marriage was legal in their state, 78 percent knew the U.S. Constitution does not ban same-sex marriage, 82 percent knew they could not serve openly in the military and 59 percent knew there's no federal law that bars workers from being fired based on their sexual orientation.
Only 38 percent of gay men and lesbians were able to answer all four questions on those topics correctly.
That's why resources like the ACLU's Get Busy, Get Equal are so valuable. It puts information at your fingertips to help inform yourself — and those essential allies who are needed to move the civil rights ball forward. Its online toolkit will help frame the issues for specific audiences — so you can reach out and effectively communicate with your elected officials, neighbors, schools, and employers.
I know there are a lot of us out there in Red State America ready to get busy and work for our rights, bolstered by the spectacular gains we've seen in other states.