Back to

News & Commentary
The Latest Must-Pass Bill Barreling Through Congress is an Attack on Gender-Affirming Care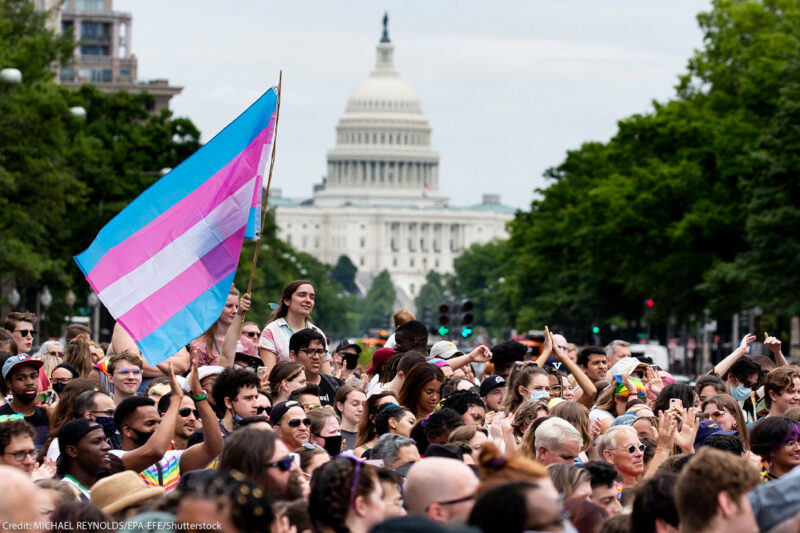 The Labor-HHS Appropriations Bill is full of anti-LGBTQ riders that will cause extensive harm if passed.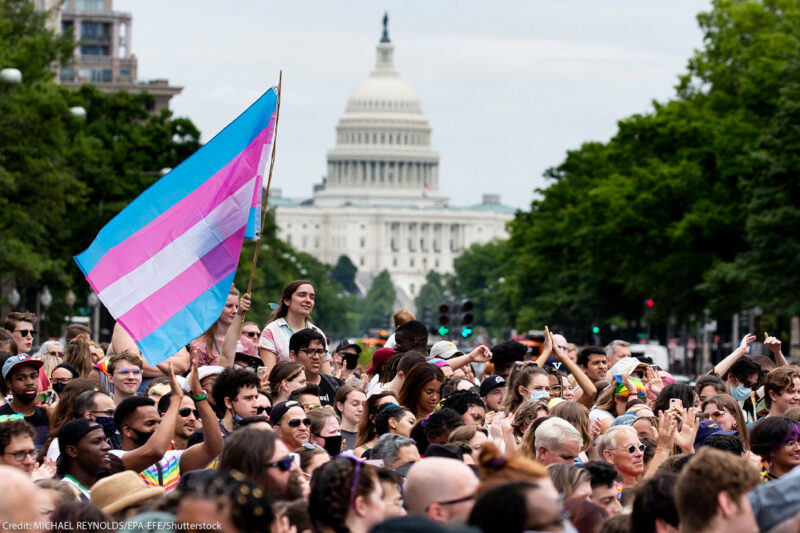 The fiscal year 2024 appropriations process has been littered with anti-LGBTQ attacks. Republican members of the House of Representatives have inserted anti-LGBTQ provisions into all 12 of the must-pass appropriations bills. These riders include restrictions on gender-affirming care, allowances for discrimination against same-sex couples, prohibitions of drag performances, banning of pride flag displays, and restrictions on diversity and inclusion programs.
These harmful anti-LGBTQ provisions come at a time when legislative attacks against the LGBTQ community are at an all-time high. As of this month, 506 anti-LGBTQ bills have been introduced in state legislatures this year alone. Bills such as the Protection of Women and Girls in Sports Act, which would prohibit transgender students from participating in sports teams that align with their gender identity, have been introduced in the House of Representatives at alarming rates. In fact, the House has already passed other pieces of legislation that are considered to be must-pass bills, such as the National Defense Authorization Act for Fiscal Year 2024, with provisions that ban gender-affirming care, drag performances, and pride flag displays.
Mapping Attacks on LGBTQ Rights in U.S. State Legislatures
In the last few years states have advanced a record number of bills that attack LGBTQ rights, especially transgender youth. The ACLU is tracking...
Source: American Civil Liberties Union
Out of all the appropriations bills, however, the Labor, Health, and Human Services, Education, and Related Agencies Appropriations Bill for FY 2024 is arguably the most nefarious and dangerous for the transgender community. The anti-LGBTQ riders in this bill seek to prohibit funds from being used for implementing anti-discrimination and equity programs, taking discriminatory action against anyone that speaks or acts in accordance with the belief that marriage is between a man and a woman, or displaying pride flags. Section 534 of this bill would also prohibit funds from being used for gender-affirming surgical procedures or hormone therapies. If passed, this will have extensive, damaging effects.
The Centers for Medicare and Medicaid Services (CMS) is an agency within the U.S. Department of Health and Human Services, one of the departments funded by the Labor-HHS Appropriations Bill. CMS provides health coverage through Medicaid to about 84.5 million enrollees as of July 2023, including eligible low-income adults. Currently, Medicaid is one the largest payers for health care in the United States.
Protect Trans Care Now
As wave after wave of extreme measures to criminalize and strip trans people of rights and safety continue, tell Congress to act.
Source: American Civil Liberties Union
As of December 2022, about 276,000 transgender people in the United States are enrolled in Medicaid and about 60 percent of these beneficiaries reside in states or territories where Medicaid programs specifically include coverage for gender-affirming care, including hormone therapy, surgical procedures, and other gender-affirming treatments. Another 27 percent of transgender Medicaid beneficiaries live in states where laws are silent or unclear on coverage for gender-affirming care. In 14 states, laws do not include express statutes or policies addressing gender-affirming care under Medicaid. In four additional states, policies explicitly exclude this care under state Medicaid programs, but actions by state legislatures, officials, and courts have indicated that these states have inconsistently enforced or may not be enforcing these policies. Unfortunately, about 14 percent of transgender Medicaid beneficiaries reside in states that expressly ban access to gender-affirming care covered by Medicaid.
This 14 percent will grow drastically with the passage of the Labor-HHS Appropriations Bill. Without funding for the U.S. Department of Health and Human Services, Medicaid programs will be unable to cover gender-affirming surgical programs or hormone therapies for thousands of transgender people, many of whom are low-income.
Not only will too many lack the sufficient funds to turn to private medical programs or services, but states are also increasingly introducing and passing restrictions on gender-affirming care across the country. There are currently 135 state bills targeting health care for transgender people, many of which seek to ban gender-affirming care, establish criminal penalties for providing such care, or block funding to medical centers that offer this life-saving care.
---
When the lives of transgender people are at risk, what can you do?
You and your elected members of Congress are our last line of defense against this national threat. All of us, collectively, must work to stop any effort to harm or criminalize our trans friends, families, and communities. Tell your members of Congress that gender-affirming care is safe, medically necessary, evidence-based, and life-saving. Tell your members of Congress that every leading medical organization in the country, including the American Medical Association, the American Psychiatric Association, and the American Academy of Pediatrics, all strongly oppose efforts to criminalize and deny gender-affirming care. Tell your members of Congress that individual health care decisions should be made between a patient and their doctor —not with fear-mongering politicians who have little to no medical expertise.
Together, we can work to protect trans people and prevent more nefarious attacks on the trans community, and the greater LGBTQ community at large, from coming to fruition.
Learn More About the Issues on This Page