On Tuesday, PBS aired a new episode of Frontline featuring an investigative segment by the Washington Post's Dana Priest, one of the chief reporters behind that paper's superb Top Secret America investigative series. In her segment called "Are We Safer?" Priest interviews ACLU policy counsel Mike German about domestic surveillance and the post-9/11 proliferation of fusion centers across the country.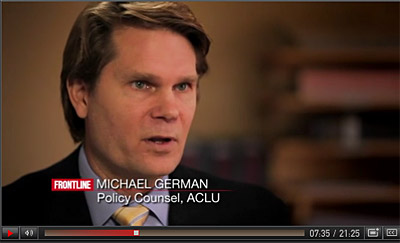 Mike talks about the inherent threat to civil liberties the national security establishment poses, especially to First Amendment-protected activities such as taking pictures in public or participating in public protests. Mike says: "There is insufficient oversight of the fusion centers to ensure that they are only collecting the appropriate information."
Be sure to also check out this extended interview with Mike on the Frontline website. And to learn more about fusion centers and domestic surveillance in your neck of the woods, go to www.aclu.org/spyfiles.