Remember those videotapes we learned that the CIA destroyed early last week? On Friday, as part of our lawsuit seeking information about the interrogation of prisoners held in U.S. custody abroad, we received new details about the content of those videotapes.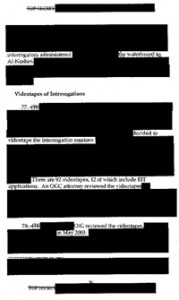 A redacted description of one of the tapes. Click to view enlarged version (PDF)
Well, kind of…
An inventory of the tapes (PDF) provided Friday evening was nearly entirely redacted (though we did learn that 12 of the tapes depicted so-called "enhanced interrogation techniques"). And the government announced it would produce a complete list of summaries, transcripts and/or memoranda concerning the tapes by March 20.
In September 2004, a federal district court ordered the CIA to produce or identify all records responsive to the ACLU's Freedom of Information Act (FOIA) request for documents relating to the treatment of prisoners held in U.S. custody abroad. The CIA violated that order by destroying the interrogation videotapes. In December 2007, the ACLU filed a contempt motion against the CIA for its flagrant disregard of the court's order. That motion is still pending.
Shockingly, the tapes were also withheld from the 9/11 Commission, appointed by former President Bush and Congress, which had requested that the agency hand over records from interrogation of CIA prisoners.
In a press release we issued on Friday, ACLU staff attorney Amrit Singh stated:
The government is needlessly withholding information about these tapes from the public, despite the fact that the CIA's use of torture — including waterboarding — is no secret. This new information only underscores the need for full and immediate disclosure of the CIA's illegal interrogation methods. The time has come for the CIA to be held accountable for flouting the rule of law.
While the issue is no laughing matter, cartoonist Matt Bors' comic this week takes on destruction of the videotapes.
The tapes aren't the only visual evidence of abusive interrogations. We are also trying to unearth photographs depicting abuse at military facilities through the same lawsuit. And all the unanswered questions about who developed the torture policies, why they were developed and how they were implemented underscore how much we still don't know.
To that end, we've been urging the Office of Legal Counsel to release still-secret memos that provided the legal basis for many of the Bush administration's worst practices — including the treatment of detainees (check out the transcript of a chat hosted by Firedoglake earlier today with ACLU National Security Project director Jameel Jaffer).
Stay tuned for updates.