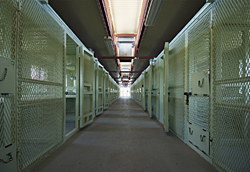 Holding cells, Joint Task Force, Guantánamo, Cuba; © Richard Ross; From the book and exhibition Architecture of Authority (Aperture)
Photographs of the outside of Abu Ghraib and Guantánamo take the viewer into a world of heat, dust and desert—Gitmo's abandoned open-air shower stalls wrapped with barbed wire at Camp X-Ray, the outdoor housing units in Abu Ghraib's Camp Remembrance—but once inside, images of the cold, hard, almost clinical edges of a Gitmo cell or the shackle chained to the floor of an interrogation room at Camp Delta dominate.Ross writes in the afterword of the exhibit's book:
"I remind myself that the people held here are prisoners or detainees, not necessarily convicts. Such nuances of language are important. At Abu Ghraib, as well as Guantánamo, there are detainees who have not been convicted. At Guantánamo, they are being indefinitely detained…detainees are in limbo, purgatory—they are nowhere men. Time stretches infinitely, governed by the caprice of the American rules. Jose Padilla is to the United States what Josef F. was to Kafka, a citizen held under a set of rules that keep changing. This fictionalized nightmare becomes our reality, our legacy."
The exhibition is displayed to juxtapose the subjects in provocative ways. Ross comments on sex-segregated prayer in Islam with two photos: the interior of the grand Blue Mosque in Istanbul, Turkey, with its huge, multi-tiered circular chandeliers hung with glass candle lanterns and massive expanse of red carpet beneath a soaring domed ceiling, hangs next to a picture of a women's prayer area in a mosque in Syria: a comparatively tiny area partitioned off by shower curtain-like fabric.The overall issue of surveillance is present throughout. From a guard watch tower in a prison yard, to video cameras inside prison "rubber rooms," and even the photos of the interiors of mosques, you get the creeping feeling that someone is always watching.The surveillance theme also reflects back to the overall theme of the show: authority. Whether the authority figure is a preschool teacher, a prison guard at Abu Ghraib, President Bush, the United Nations, or God, the collection conveys a simultaneous respect for, and contempt towards, authority. The show also confronts how the buildings where those figures exist both establish and reinforce, but then sometimes undermine, their authority.John R. MacArthur writes in the book's forward:
"[W]hat provoked Ross to do this book was his horror at the sudden rise of hard, illegitimate authority in America, the abrupt lane change in our political culture that took place after 9/11. This self-righteous, vindictive, and reckless divergence by the Bush administration was aimed at justifying actions at once unconstitutional and shameful: torture, the suspension of habeas corpus, "preemptive" invasions, and bald-faced lying to Congress, the American people, and the world. I'm a skeptic by nature, but talking with Richard Ross for any length of time makes it impossible to doubt his political sincerity and his outrage over the transformation of American into a country that practices waterboarding in the name of liberty. "The United States," says Ross, "is not America anymore."
"Architecture of Authority" will be on display at the Aperture Gallery (547 West 27th St., 4th Floor) through July 31. After that, the exhibit will travel to the Nerman Museum of Contemporary in Overland Park, Kan., this fall, then will go on to the Goldstein Museum of Design at the University of Minnesota in St. Paul from February 7, 2009 through April 5, 2009. It will be at the Tampa Museum of Art from September 11, 2009 through November 8, 2009.