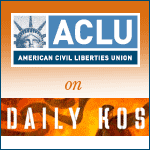 as we've pointed out before, more DNA profiles don't necessarily make us safer, or help solve more crime. Noam writes:
[Rep. Adam] Schiff's amendment would give states cash incentives to begin collecting DNA from anyone arrested for a violent or sex crime, including misdemeanor sex offenses. As the ACLU has argued time and again, innocent people do not belong in a criminal database. Currently, most states do not take DNA from people who have yet to be convicted of a crime, unless that DNA sample is required for an investigation, in which case you can easily get a warrant or court order to obtain it. Including arrestees would dramatically expand the state and federal DNA databases to include vast numbers of innocent people, and would necessarily exacerbate racial disparities that already exist in these databases.
That's right: the horrible trend of collecting the DNA of people who are merely arrested, not convicted, might weasel its way into federal law. And ironically, as Noam points out, "both of these amendments will undermine the bill they were attached to, which aims to cut down on the massive rape-kit backlog that has made the [federal DNA database] an inefficient and ineffective law enforcement tool."
I suppose this doesn't surprise anyone.