On Tuesday, ACLU National Security Program Staff Attorney Ben Wizner traveled to Gitmo to witness yet another round of hearings at Guantanamo as a human rights observer. Yesterday he attended the hearing of Afghan national Mohammed Jawad, who was 16 years old when he was captured. Unlike other many of the detainees at Gitmo, Jawad is not accused of ties to Al-Qaeda or the Taliban. In our DailyKos diary today, Ben wrote about the powerful statement Jawad gave at his hearing.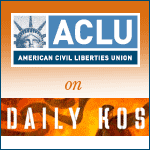 Ben will be blogging from Gitmo through tomorrow.
In more Guantanamo news, today we filed a lawsuit against the Defense Department and the CIA for the release of unredacted transcripts of the Combatant Status Review Tribunals (CSRT) going on in Guantanamo. We're specifically after the transcripts of 14 CSRT hearings in which the detainees described their torture and abuse while in CIA custody. In the lawsuit, we argue that the redactions are a violation of Americans' First Amendment right to know the methods of interrogation being used in the name of "national security."
You can take a look at the transcripts we did receive through our previous Freedom of Information Act request; not very illuminating, are they?