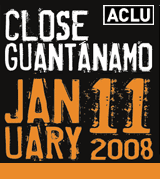 Patricia Santiago, group coordinator for Amnesty International at USF, challenged passers-by in a quiet, compelling voice: "What do you know about Guantanamo? Here, you need to know more," as she offered fact sheets and commemorative ribbons.
Alliance for Concerned Students President Jordan Stone's approach was energetic and engaging as he both quoted and improvised hip-hop commentary about freedom, torture, habeas corpus and the right of prisoners to challenge their detention – clad in a prisoner-style jumpsuit and distributing orange wristbands emblazoned with the message "CLOSE GUANTaNAMO."
Mike Pheneger, a retired Army intelligence officer and the chair of the Tampa chapter of the ACLU of Florida, provided a traffic-stopping visual demonstration of waterboarding, a harsh interrogation technique many Guantanamo detainees have suffered through.
Many of the students who stopped to watch the minute-long demonstration were visibly repulsed. One said, "I thought it just meant dunking someone in water." Pheneger, whose Army career included interrogation, responded by telling the group that waterboarding can be, and has been, fatal.
Student responses to the waterboarding ranged from disturbed to angry. Most agreed on one thing: our country shouldn't be torturing people. One hundred twenty people signed a petition calling for the closure of Guantanamo. Hundreds more left the site of the demonstration with wristbands, ribbons, armbands and fact sheets, pledging to wear orange on Friday and to tell their friends what they have learned.