Back to

News & Commentary
FOIA Documents Show FBI Was Watching Occupy Protestors, Some Docs Still Secret on National Security Grounds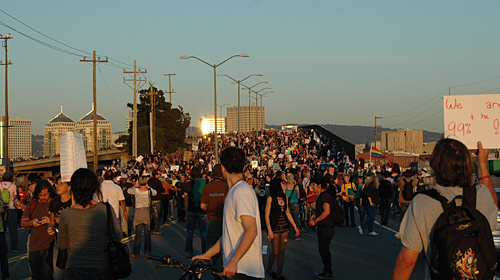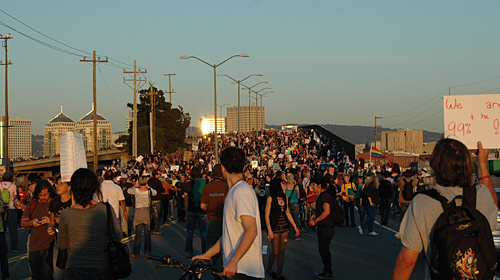 Just shy of the one-year anniversary of the inaugural Occupy Wall Street protests, the ACLU of Northern California obtained initial documents from the FBI about surveillance of Occupy demonstrations in the region (see the FBI's response here).
The documents came after an ACLU-NC lawsuit filed after the FBI refused to release any documents in a Freedom of Information Act request. The documents are significant for two reasons:
First, they finally confirm what until now have only been suspicions that the FBI was conducting surveillance of the Occupy movement.
Second, the FBI is refusing to hand over documents "in the interest of national defense or foreign policy." In other words, to the FBI, political protests about economic policy pose an unspecified threat to national security.
The FBI has a troubling history of spying on political activists. We're concerned that in 2012, history is still repeating.
Documents from a FOIA request by the Partnership for Civil Justice have shed light on the involvement of various federal agencies, primarily the Department of Homeland Security and National Park Service. Suspicion has long run high that the FBI has been surveilling Occupy protests, but until now, we've seen no official confirmation of the agency's involvement.
The 13 pages of documents released to the ACLU-NC show that the FBI was monitoring Occupy events, in particular, the Port of Oakland shutdown on November 2, 2011 and the multi-city West Coast port shutdown on December 12, 2011. These include an FBI alert to "corporate security officers" in advance of the December 12, 2011 port shutdown.
But more troubling than what the FBI has revealed is what it's refused to reveal. We asked for FBI records about Occupy protests in Northern California, where several of the most high profile demonstrations have taken place, as well as intelligence bulletins, training materials, or justifications for investigating the Occupy movement anywhere in the country. The agency claims it only has a grand total of 37 pages on all of these topics, and is refusing to hand over more than half of those documents. One of the justifications for withholding the information, is that it supposed must be kept secret "in the interest of national defense or foreign policy."
We're at a loss to understand how information about the Occupy movement could implicate national security, and if it does, how the FBI can claim that it has only 37 pages of documents. We intend to push for additional information from the FBI on these issues. Stay tuned.
Learn more about government surveillance: Sign up for breaking news alerts, follow us on Twitter, and like us on Facebook.
Learn More About the Issues on This Page