The ACLU's been raising the alarm about fusion centers for a while now and it finally seems that public is slowly catching up with us. These post-9/11 phenomena have been in the news lately for all the wrong reasons. Let's catch you up.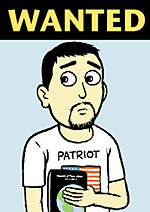 In February, a "Prevention Awareness Bulletin" became public from a North Central Texas Fusion System. The bulletin warned of a conspiracy involving former Congresswoman Cynthia McKinney, Muslim rights groups, anti-war groups, the U.S. Treasury Department and — wait for it — hip-hop groups. The same month, a "Strategic Report" from the Missouri Information Analysis Center listed supporters of third party candidates like Ron Paul and Bob Barr as a threat, claiming they were a part of the "modern militia movement."
The latest disturbing news is out of a Virginia fusion center. A document, posted online last week details potential concerns and threats throughout the Old Dominion State, specifically mentioning the multicultural population surrounding a military base. The assessment advocates for the monitoring of First Amendment-protected activities of various religious and educational facilities and characterizes the student population at specific Virginia colleges as traditionally black.
Gross.
These three incidents are compelling examples of why fusion centers are kind of like law enforcement snowflakes. Snowflakes without oversight: No two fusion centers are exactly alike and there are no consistent standards for them to work within. It's a problem.
After the ACLU testified before the House Homeland Security Subcommittee on Intelligence, Information Sharing, and Terrorism Risk Assessment, we sent five letters to the Department of Homeland Security Privacy Officer asking for investigations into these three incidents plus a few more for good measure.
The last two months have given us more evidence than necessary that fusion centers need regulation.We're asking Congress to step up to the plate and make sure the proper safeguards are put into place.
Otherwise, at this rate, we'll be getting a new horrifying fusion center story every few weeks. Scared yet? Matt Bors thinks you should be.