Liz Cheney and Bill Kristol just created a new organization…Its name is Keep America Safe and this is its logo: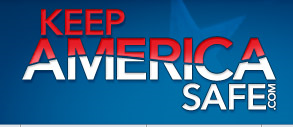 It's as though they took the ACLU's logo and wrote the "Free" out of it, depicting America as nothing more than a single-minded, fear-based Security State.
The ACLU is committed to keeping American safe and free. We reject the false notion that there is a trade-off between liberty and security; we must stand by the values that make America "America" at all times.
Learn More About the Issues on This Page