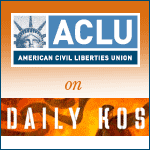 As we mentioned yesterday, Judge Sam Brownback pointed out that the prosecution's refusal to turn over to the defense team the treatment logs detailing Khadr's detention at Gitmo is preventing the case from going to trial. Col. Brownback is giving the government until May 22 to turn over these logs. Amrit describes the pretrial proceedings:
In a signed, nine-page affidavit filed in March, [Khadr] describes charges of abuse at the hands of U.S. interrogators, saying that he was repeatedly interrogated while he was in excruciating pain, hooded and menaced by barking dogs, and threatened with rape.
The U.S. Army's Criminal Investigation Division's (CID) documents corroborate these claims of abuse. But even more revealing is Amrit's account of a cover-up that was revealed at yesterday's hearing:
Lt. Cmdr. Bill Kuebler, stated in court that a U.S. Army Criminal Investigation Division (CID) report into Khadr's abuse at Bagram includes a statement by 'Sergeant P.' corroborating Khadr's claim that he was left standing in Bagram for hours on end with his hands extended above his head and chained to the ceiling. … The CID investigation was however abruptly discontinued when it ran across 'Sergeant C' and found that he was the subject of a court martial investigation. According to Kuebler, 'Sergeant C,' who also interrogated Khadr, was one of the most aggressive interrogators at Bagram and was implicated in the homicide deaths of prisoners there. Kuebler believes that the CID investigation was deliberately 'killed' to prevent the military commission proceedings in Khadr's case from unraveling.
So while the prosecution isn't undermining its own case by refusing to hand over documents, the Army is doing what it can to cover up its torture and abuse of detainees. As Amrit said yesterday, "this is what's being presented as American justice."That's the real shame.
Learn More About the Issues on This Page