Nonny de la Peña is the producer and director of the 2004 documentary Unconstitutional, and Peggy Weil is a professor at the University of Southern California. Both are the creators of Gone Gitmo, a virtual Guantanamo in Second Life.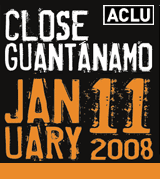 Today marks the sixth anniversary of the day the first prisoners were brought to Guantanamo. We are pleased to be able to participate in this event with the ACLU on Progressive Island with the common goal to Close Guantanamo.
Our purpose is to raise awareness, initiate discussion and educate on habeas corpus issues by making a virtual but accessible Guantanamo Bay Prison in contrast to the real, but inaccessible, U.S. prison camp. We are using Second Life to expose a substantially new audience to these issues by extending the methods and images from documentary filmmaking into new online, participatory environments.
Gone Gitmo was incubated during a residency at the Bay Area Video Coalition Producers Institute for New Media Technologies funded by The MacArthur Foundation. We answered the call to translate an "existing, significant, documentary work" into digital media. Our intention was to translate the Guantanamo portion of Nonny de la Peña's 2004 film, Unconstitutional, into a virtual, cinematic experience. On September 17, we were able to simulcast Seton Hall Law School's Constitution Day Event from our event stage, Habeas Commons.
Our overriding philosophical challenge is to communicate a gravely serious matter in a medium known for games and entertainment. This is changing as use of the medium has evolved: Second Life has a growing nonprofit community including several noteworthy activist sites. As artists, we confront how to portray the practices in Guantanamo effectively and design an experience that does not trivialize torture (we will not torture your avatar) but will provoke thought and insight into the complicated issues surrounding detainees' rights.
– Peggy Weil and Nonny de la Peña
Learn More About the Issues on This Page