Inspired by the Arab Spring, a group of a few hundred protesters have occupied a park right off of Wall Street for more than a week, seeking attention for what they call a greedy and unjust financial system. The staff of the New York Civil Liberties Union (NYCLU) has been on the scene talking to protesters, learning about their experiences with police, and passing out Know Your Rights guides on protesting in New York City and on surviving police encounters.
Interested in joining them? Here's a few things to keep in mind when you're protesting in New York City:
You have a right to stand or march on sidewalks without a permit.
You may photograph or video the cops, but do not interfere with police action.
Remember officers' badge numbers, names and physical descriptions.
File complaints about misconduct by calling 311.
If you march in the street without a permit, you risk arrest.
If ordered to disperse, do so unless you want to be arrested.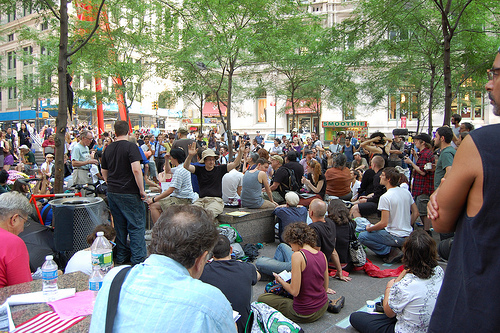 A crowd of a few hundred people has been camping in Zuccotti Park off Wall Street since Sept. 17.