On Saturday, Hina Shamsi, one of the staff attorneys with our National Security Project, travelled to Guantánamo Bay to observe the military commissions hearings of Omar Khadr and Salim Ahmed Hamdan.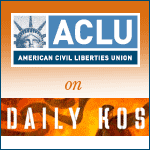 You might recall Khadr and Hamdan's story from Jamil Dakwar's Gitmo blog post back in November. As you could probably tell from that post, nothing was really resolved in either case.
In today's post on DailyKos, Hina gives a preview of what's to come in Khadr's proceedings. She explains the laws and treaties the U.S. has signed in regards to the treatment of juvenile offenders, and how the U.S. military commission system flouts these laws:
Recognition of the special needs of child offenders in the context of armed conflict are part of the law of this land. In 2002, the United States ratified the United Nations' Optional Protocol to the Convention on the Rights of the Child on Involvement of Children in Armed Conflict. That protocol, together with internationally recognized juvenile justice standards, recognizes that juveniles caught up as participants in armed conflict should be rehabilitated and provided "all appropriate assistance for their physical and psychological recovery and their social reintegration."

Khadr's detention and treatment has been to the contrary. In U.S. custody, he was denied access to a lawyer for more than two years and, his lawyers say, he was severely abused while at Guantánamo. His lawyers allege that he was shackled in painful positions, threatened with rape, and used as a "human mop" to clean up his own urine during one interrogation session. As international human rights groups said in letters sent on Friday to Secretary of Defense Robert M. Gates and Canadian Prime Minister Stephen Harper, "The U.S. government's failure to properly treat Khadr as a child in detention violated U.S. legal obligations under the laws of war, the International Covenant on Civil and Political Rights, and international juvenile justice standards."
Hina will be blogging her observations of Khadr and Hamdan's hearings from Guantánamo all this week, so stay tuned.