The government's prosecution team has been trying to pressure Judge Peter Brownback, the military commission judge at Guantanamo, to hurry along the trial of Omar Khadr, the now-21-year-old Canadian Guantanamo detainee accused of lobbing a grenade that killed U.S. Special Forces medic Christopher Speer. Khadr was 15 when he was captured.
News from Guantanamo this afternoon tells of Brownback expressing frustration with the prosecution for not providing the necessary documentation showing the day-to-day of Khadr's six-year detention at Gitmo. The AP reports:
At a pretrial hearing, Judge Peter Brownback, an Army colonel, criticized the prosecution team led by Marine Maj. Jeffrey Groharing for demanding an expedited trial despite failing to obtain the documents from the detention center.

"I have been badgered, beaten and bruised by Maj. Groharing since the 7th of November to set a trial date," Brownback said. "To get a trial date, I need to get discovery done."
ACLU staff attorney Amrit Singh is in Guantanamo right now overseeing these pre-trial hearings as a human rights observer. She'll have more on today's developments in our DailyKos Diary tomorrow.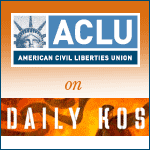 Today, she wrote about the pretrial hearing of Mohammed Jawad, another teen who was captured in Afghanistan and has been held at Guantanamo for six years:
At the outset of the proceedings, Jawad's military lawyer, Major David Frakt, informed the military judge, Colonel Peter Brownback, that although Jawad did not believe that he could get justice before the military commission, he had agreed to let Frakt represent him for the sole purpose of challenging the legitimacy and legality of the commission proceedings. Remarkably, when the judge asked government counsel if he had a response, he retorted that he had not anticipated that Jawad would make such an "idiotic request." Although that statement was subsequently withdrawn at the judge's direction, it was emblematic of the intemperate and contemptuous tone adopted by government counsel throughout the proceedings.
So not only did the prosecution insult the defense team, but it showed just how ignorant it is of what is going on with the military commission. Anyone reading the news about Guantanamo knows that several detainees have challenged the legitimacy of these commissions at their hearings. So to not anticipate this…well, that's idiotic.
Learn More About the Issues on This Page