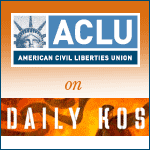 Once again, the government has messed up, and is scrambling to cover its tracks:
Later in the day, a secret government document, disclosed by mistake, cast doubt on the very basis for the Bush administration's case against Khadr…

The significance of the document was made clear by Khadr's military defense counsel, Lt. Cmdr. William Kuebler. Asked to describe it later in the day, Lt. Cmdr. Kuebler said it dispelled what he referred to as a myth propagated by the government: that Khadr was the only person who could have lobbed the grenade that killed U.S. soldier Christopher Speer – the basis of the most serious charge against him. The document, created in 2004, turned out to be an interview of a witness to Khadr's capture.In it, the witness describes finding two people alive in the Afghan compound in which Khadr was captured – the witness shot and killed the first man before he saw Khadr. Then, according to Lt. Cmdr. Kuebler, Khadr, who was 15 years old at the time, "was shot on sight – in the back – twice – while wounded, sitting and leaning against a wall facing away from his attackers."
Military Commission officials tried to demand the document back from reporters, threatening their access to future proceedings if they didn't cooperate. Finally officials agreed to let the press report on the document, as long as certain details weren't disclosed.
The accidental release of this document also points to the extreme secrecy the government uses in its prosecutions through overclassifying evidence. The defense can only see the evidence the government chooses to release – giving an inherently unfair advantage to the government's case.
In other torture news, ACLU of Northern California Executive Director Maya Harris authored an op-ed for the Sacramento Bee today about today's hearing in San Jose in our extraordinary rendition case against Boeing subsidiary Jeppesen Dataplan. Maya discusses the Bush administration's abuse of the "state secrets" privilege, and how it shouldn't be allowed to use this argument in its effort to dismiss the case.
Finally, for those of you who can't get enough of polls, tomorrow we'll have a new one that has nothing to do with the candidates running for president. This survey of 1,000 likely voters in the upcoming election cycle has to do with the destruction of the CIA torture tapes. Stay tuned for the results after 2 p.m. tomorrow!