Brian Corr of the ACLU of Massachusetts is sending us dispatches from Close Guantanamo events in Boston.
Noon: We're about to leave the ACLU of Massachusetts office for our Shut Down Guantanamo action. We've got quite a crew assembled at out office! The fact that the Boston Herald ran an op-ed from our director Carol Rose today – that has helped get the word out!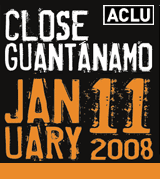 12:30 p.m.: I'm in downtown Boston, Mass. The rare January thunderstorm has stopped and the sun might just peek through the clouds and winter fog.
Despite the weather, we have a great turnout for our Shut Down Guantanamo march. We teamed up with Amnesty International for a solemn procession and protest vigil in downtown Boston demanding the closure of Guantanamo prison.
12:50 p.m.: With orange jumpsuits and black coffins outside Sen. Kennedy's office we're attracting stares, some questions, and some people joining us! It's great to see that people from all parts of the political spectrum have come out in support of the the rule of law and the Constitution.
1 p.m.: Great speech fom Josh Rubenstein of Amnesty rallied the crowd a minute ago, and now the Raging Grannies are singing "Rummy Says."
This is really something for the middle of January in New England…