Back to

News & Commentary
Beautiful Lakeshore Views Abound in This Resort Town – But Only for Churchgoing Christians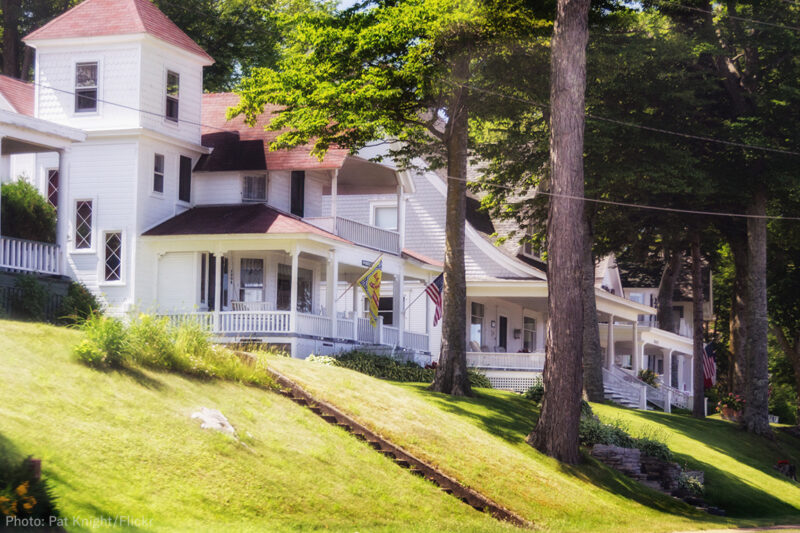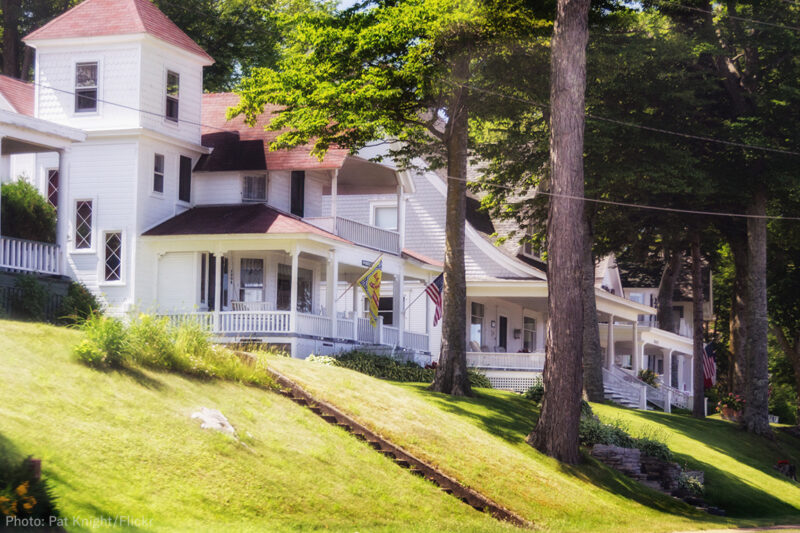 The community of Bay View, Michigan, sits along the shores of Lake Michigan, a picturesque summer resort destination for families across the country. Full of historic buildings and Victorian cottages, Bay View boasts that it is one of the "prettiest painted places" in the United States.
Yet behind its pristine facade, Bay View hides a shameful past of discrimination that continues today. Around 1942, Bay View started to limit renters and owners to those "of the white race" and Christian faith, later restricting Roman Catholic membership to 10 percent or less. The race restriction faded out by 1959, but the religious one persists. Today, Bay View homebuyers must not only be Christian, they must have a minister's letter to prove it.
In other words: Buddhists, Hindus, Jews, Muslims, Sikhs, atheists, and many others — including Christians who don't attend or belong to a church — need not apply.
Fifty years after the passage of the federal Fair Housing Act, Bay View's policies seem stuck in the past, harkening back to an era where blatant and discriminatory restrictions on homeownership were commonplace. Luckily, some in Bay View object to this practice — and sued to stop it.
This week, we filed a brief supporting them, arguing that Bay View's policy cannot stand under fair housing principles enshrined in federal and state law. Moreover, under state law, Bay View has significant authority akin to a governmental body — like appointing a marshal to arrest and imprison those who violate its bylaws — and so must honor the Constitution as cities and towns do. It cannot put the government stamp of approval on practicing Christians over all others.
Bay View's policy does not exist in a void. Rather it operates alongside decades of religious and racial discrimination in housing, both in Michigan and across the nation, where Catholics, Jews, and other minorities were kept out to maintain a neighborhood's image. In Grosse Pointe, Michigan, for instance, realtors in the late 1940s and '50s used a rigged points system to exclude those who were not considered "American" enough because of their country of origin, occupation, friends, appearance, accent, education, religion, or a number of other factors. While most buyers needed only 50 points to make the cut, those of Polish descent needed 55, southern Europeans needed 75, and Jews needed 85 (later raised to 90). Blacks, Asians, and Mexicans were flat-out denied.
When Congress passed the Fair Housing Act in 1968, followed promptly by the Michigan Legislature's fair housing law, lawmakers formally recognized what was already common sense — that these discriminatory practices should have no place in our society.
Fifty years later, the United States is more religiously diverse than ever before. According to the Pew Research Center's Religious Landscape Study, a growing portion of the population (22.8 percent) identifies as unaffiliated or as a member of a non-Christian faith (5.9 percent). Michigan's population, in particular, has set milestones in religious diversity. Congressman Sander Levin, who represents suburban Detroit, is the longest-serving Jewish member of Congress, and Hamtramck, Michigan, became the first known city in the United States to have a majority-Muslim city council.
But with this diversity has come increased targeting of people based on their religion, national origin, or other protected characteristics. Hate crimes against Muslims and Jews increased in 2016, according to FBI data, as did hate crimes overall. There is evidence suggesting that such bias has spilled over into the housing realm, with Muslims significantly more likely to experience housing discrimination than their non-Muslim counterparts.
In light of this data, it is ever more important to eradicate discriminatory practices like Bay View's and ensure that the Fair Housing Act and the Constitution remain bulwarks against them. As the Michigan Legislature said upon celebrating the Fair Housing Act anniversary, "[d]iversity creates stronger communities and provides Michigan[ders] the best opportunity to achieve the American dream[.]"
We hope Bay View will soon live up to these ideals and realize that religious diversity will strengthen, not harm, the beauty of their community.