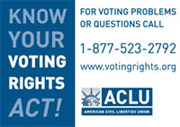 As a child in Africa, the idea of voting–not the concept of voting as a valued, cherished right–the very idea of voting was alien to me. I was born in Ghana and I grew up in Nigeria and I just was not brought up with the idea that you could pick your leaders by voting for them.
My African days and nights were ruled by the certainty that the government you went to bed with could be gone by dawn, often violently. Ghana had its first military coup in 1966, when I was four years old. Nigeria, too, had its first one that year. By the time I arrived in there, it was in the throes of the Biafran civil war. Nigeria, especially, became a nation of often violent government changes.
I bring up this history now because I just completed–with colleagues here at the American Civil Liberties Union–work on Voter Empowerment Cards for 40 states to educate people on voting in the November 4 election.
In fact, in my adult pursuits and endeavors, I have always been engaged in monitoring people exercising (or choosing not to exercise) their voting rights, most of that time as a journalist.
I first became aware of how important the franchise was in the early 1980s when Harold Washington was elected Chicago's first black mayor. I had arrived in Chicago in 1979 and it was to be my home for many years. The city's black population knew to expect very little in the way of city services. Many of the stresses of urban life, especially violent crime and extreme poverty took root in black neighborhoods and would not let go.
Preaching reform of the Chicago patronage system and the need for a jobs program in a tight economy, Washington won the general election but spent his first term in ugly, racial fights with the Board of Aldermen, led by Alderman Edward "Fast Eddie" Vrdolyak. Vrdolyak and 28 other white members of the city council formed a majority that blocked Washington's reform agenda.
This bloc needed one more vote to override the many vetoes Washington had to resort to but a coalition of black, Latino and liberal white members of the council thwarted the majority in the council.
Washington died shortly after winning re-election in 1987.
As a reporter at the New York Daily News in the early 1990s, I covered the first term David Dinkins, New York City's first African American mayor. Dinkins had beaten Rudy Giuliani narrowly in the 1989 election. In the rematch four years later, I covered the election from Harlem. This time, Dinkins lost narrowly. I spoke to many black residents of Harlem who, otherwise occupied, did not vote in that election.
A year later, in 1994, I found myself in South Africa covering that nation's first election in which the black majority was allowed to vote. That election cast the nation's philosophy of apartheid and the separation of the races — when a few white people hoarded all the power and the nation's wealth and resources — into the dustbin of history.
For me, it was exhilarating. An exuberant nation braved a last-minute spasm of violence to vote. What was remarkable about the event was that the all-white government saw that history was against it and worked diligently to bring the disgraceful reign to an end.
First they freed Nelson Mandela from decades of imprisonment, then began negotiating with him a constitution and a regime of rights that would preserve the nation.
What have I learned in this peripatetic stroll through my own and other people's history? That the vote – exercise of the franchise – is paramount. We cannot begin to change our society for better unless we first vote. So, let's get out and vote.