Life in a battleground state isn't easy these days. We've been overrun by battling candidates, an army of election watchers, news media, and… well… anxiety.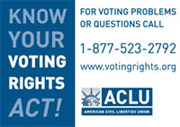 The poll numbers in Ohio are close. The candidates and their parties are battling furiously for every vote. The problem is that they haven't limited their tactics to debates, ads, and public appearances—instead, their tug-of-war has spilled over into limiting Ohioans' access to the ballot box.
That's where the ACLU comes in. Unlike the campaigns, our focus has always been on voters' unencumbered right to cast a ballot rather than on how they choose to vote. That allows us, often in coalition with other non-partisan voter rights advocates, to focus our efforts on making sure all eligible voters have equal access to the ballot box without barriers.
Ohio has seen a flurry of litigation in recent weeks over a variety of aspects of the elections process like new voters' right to cast an absentee ballot, the acceptable format of an absentee ballot request form and how registrations must be processed.
For a summary of some of these cases and the ACLU's work on them, check out the ACLU of Ohio's voting rights page.
While these court cases have been important, their impact is often misunderstood. No doubt this is in large part due to the fact that each day involves a new wrinkle, and new legal documents are filed virtually every few hours.
The most recent of these decisions is a good example. In less than a week, there have been no less than three federal court decisions on how Ohio processes voter registrations. The Federal District Court of Southern Ohio issued an order instructing the Secretary of State to share database information matching data with the counties, the federal appeals court panel halted that order, the full court of appeals then reinstated the order, and then the U.S. Supreme Court was asked for an emergency stay. And, as we joke around the office, if you wait a few hours it may change again.
There have also been plenty of controversies that were argued in the court of public opinion, such as voter registration volunteers being kicked off of college campuses and "investigations" into newly registered voters who cast absentee ballots.
There is good news, though. Despite the flurry of litigation and some tweaking of election administration, there is one thing that has remained sacrosanct: our access to the ballot. In their decisions, all of the courts have stressed that restricting a voter's right to cast a ballot is unacceptable. The ACLU will continue to work hard to make sure this remains true.
For those looking for more information about Ohio voting, please visit our web resources on voting litigation, voter empowerment resources and answers to voting questions, and voting news.
Stay tuned. We're 19 days away from the election, and in the battleground state of Ohio we'll be working hard each day to be sure everyone who wants to cast a ballot and is eligible may, and that every vote is counted.