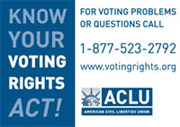 The headlines describing potential obstacles to voting this year seem to mount by the day. There have been numerous reports, for example, on the dissemination of misinformation about students' voting rights and efforts by political parties to dissuade certain voters from turning up at the polls on Election Day. Last week The New York Times reported that election officials in at least six states are improperly purging tens of thousands of eligible voters from the polls.
The American Constitution Society for Law and Policy (ACS) and the American University Washington College of Law recently hosted a panel discussion of experts on election law and the array of potential issues in the upcoming elections. During the panel discussion, which was Web cast live, the NAACP Legal Defense Fund's Kristen Clark, said voting intimidation and suppression are alive and well in this election cycle. Clark pointed to an effort in Michigan aimed at discouraging citizens whose homes have been foreclosed from voting and noted that her organization has heard of misleading information suggesting that people with parking tickets could face arrest if they turned up to vote.
The Brennan Center's Wendy Weiser also cited incidents in Virginia and Colorado where election officials have distributed misleading information about the voting rights of students. The entire panel discussion can be viewed here. The panel discussion was preceded by the creation of new ACS Web page providing educational voting rights information for students.